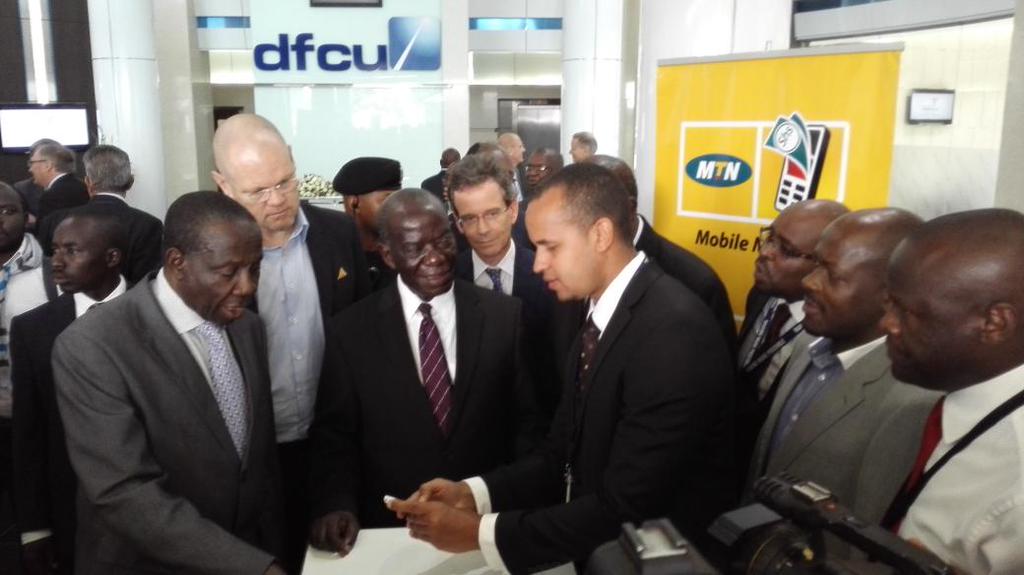 "With over 40 million MTN Mobile Money transactions each month, the service has become an integral part of society today," declared MTN in a media release last month. They announced that MTN is now "Uganda's leading financial services provider", the same time as they celebrated an exuberating total monthly value of transactions that now exceeds UGX 1.8 trillion.
It was the first time MTN referred to itself as a financial services provider. MTN consequently kicked off a campaign in which they illustrate Mobile Money as the "easy way of life".  The campaign is geared towards celebrating the various ways MTN Mobile Money has positively redefined the way of life across Uganda and beyond through the services it offers and promotes.
MTN believes, "to the impatient student hungry for education, it's the easy way to confidently move towards a brighter future". "To the isolated man who lives where there are no banks, it's the easy way to bridge the gap between himself and the world".  "To the worried mother nursing her child in hospital, it's the easy way to secure her child's heath." "To the time starved executive needing to pay bills from anywhere, it's the easy way to buy time to spend with loved ones." With this campaign, MTN addresses the various aspects of lives its Mobile Money service have altered since launching the product in 2009.
Since 2009, Mobile Money has been growing consistently and evolved into Uganda's mainstream method of payment for goods and services. Today MTN Mobile Money facilitates seamless banking transactions, tax payments and payment of utility bills to UMEME, NWSC or DSTV among many others.
"The convenience aspect of mobile money means people are no longer carrying loads of cash," noted Michael Niyitegeka, a Ugandan ICT Consultant and former ICT Lecturer at Makerere University.
He observed that mobile money has lately been adopted by funding agencies paying beneficiaries at the bottom of the pyramid. "If you're paying by mobile money, you're sure the money is being delivered to the intended people, thereby eliminating chances of misuse," he argued.
"The other thing is the economies of scale. If I'm paying 1,000 people, it's easy to pay directly from the bank to people's mobile phones," added Niyitegeka.
The development of mobile money has enabled MTN to serve as a payment gateway, allowing parents to pay their children's school fees, PayTV subscription payments like DSTV or GoTV in addition to facilitating merchant payments, even . Just two months ago, MTN  announced a partnership with Vivo Energy thanks to which customers can purchase fuel at all Shell petrol stations across the country using Mobile Money.
Notable partnerships with over 10 financial institutions – including Centenary Bank, Stanbic Bank and Bank of Africa – have helped MTN Mobile Money facilitate almost 90% of all recorded mobile money transactions to and from banks in Uganda.
Niyitegeka adds: "With Mobile Money, you don't need to keep a lot of cash – and that's a security advantage."
MTN Uganda's General Manager for Mobile Financial Services, Phrase Lubega points out that in fact, 72% of all utility bills in Uganda are paid through the MTN Mobile Money platform.
This can in part be attributed to the fact MTN Mobile Money is the largest single payments platform, with over 7.5 million Mobile Money subscribers currently registered.[related-posts]
Furthermore, MTN recently launched a new smartphone app that extends the usage of Mobile Money beyond USSD. The app, named MyMTN, is available for all major mobile operating systems, including Android, iOS, Blackberry OS and Windows.
In this regard, it is also important to note that there are over 60,000 active MTN Mobile Money agents across the country, meaning there is  an agent almost every few meters in all towns and trading centers.
As such MTN Mobile Money has become an integral part of both society and the financial ecosystem in Uganda, not only driving financial inclusion but also transforming the way of life by making payments more convenient and easier.
"It's a bold and simple step towards an easier way of living," MTN's CEO Brian Gouldie professed.
By Albert Mucunguzi and Irene Najjemba