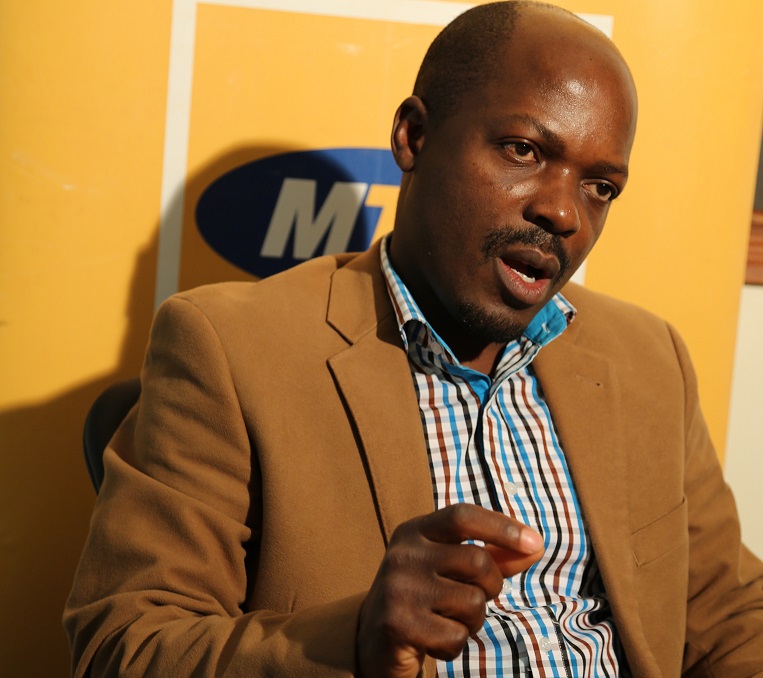 Uganda is one of the many African economies that are still cash-bound and there are two painful realities that are synonymous with banking. First, the endless paperwork that goes with depositing, withdrawing and even the opening of a bank account. Secondly are the queues that accompany the former.
The inconvenience that comes with lining-up in a bank, waiting for a moody teller, is an absolute nightmare. Its also time-wasting, especially to those living in rural Uganda, who have to first trek a couple of kilometers to find an open branch to conduct their transactions.
Last week MTN Uganda unveiled a fresher mobile money brand positioning, emphasizing the fact that the company is now the leading financial service provider, not only offering the much more desired mobile money options but also offering the ease that comes with using the platform.
According to the company's top executives the 'chains-of-bondage' attributed to banking have been broken by the evolution of MTN mobile money. The message was clear; 'forget the annoying banks, one can now access financial services with much ease, right from the comfort of one's mobile phone, at anytime any place.
With mobile money, its obviously easier to pay for utility bills, pay for pay TV, order for food (Hellofood), shop on-line and even receive money from the diaspora right from your phone. With MTN mobile money you can even purchase petrol from any Shell petrol station.
MTN Uganda revealed last week that, while Umeme (the electricity supplying body) collects about sh 5.8 billion monthly through its mobile money platform, National Water and Sewerage Corporation (NWSC) collects another bounty of sh 2.1 billion through the same service. These figures according to MTN officials translate, to over 70 percent of total volumes collected by all telecoms and all banks.
Its also interesting to note that over 35, 000 subscribers majorly in rural Uganda access solar power by using MTN Mobile Money to pay. (This is partnership with solar power companies like 'Fenix'  and 'Ready Pay').
The success of mobile money, has gone far further than simply connecting the previously unbanked, leading to a fundamental shift in the rural and peri-urban economies.
To demonstrate this, Brian Gouldie MTN's Chief Executive told reporters that the total value that has already been transacted by mobile money in 2015 has increased by 24 percent to sh16.8 trillion.
"Mobile Money is now backed by breakthrough technology that offers a complete end-to-end customer experience enabling transactions and this has seamlessly replace cash," Gouldie said.[related-posts]
"Today MTN Mobile Money is so much more than money on your phone. It's a bold and simple step towards an easier way of living transforming lives and simply making life easier," he added.
Going back to banking, there are over 30 banks in Uganda. Despite this, the banking penetration rate is not more than 10 percent and yet the traditional banking model involves taking branches to various locations, an option that is not compatible with poor countries such as Uganda.
A Global Financial Inclusion Indicators' report revealed that 27 million Ugandans are unbanked, not only because of poverty, but the cost, travel distance and amount of paper work involved in opening an account.
"In Uganda, maintaining a checking account, costs the equivalent of 25 per cent of GDP per capita annually, and 54 per cent of non-account holders cite cost as a reason for not having an account," the report states.
This means that Ugandans spend close to (or more than) $4.2 billion annually to access banking costs.
Furthermore, while with mobile money access to financial services is right in your palm, some traditional banking branches are still unable to support the number of customers they generate in particular areas.
With over 19 million mobile phone subscribers in Uganda, the advent of mobile money provides everyone with the opportunity to access financial inclusion, presenting an opportunity for telecoms like MTN Uganda to provide banking services using mobile phones.
"Despite the significant strides in expanding the number of access points by banks, its proportion to population is still low. In fact, both the number of branches for every 10,000 adults and the number of ATMs for every 10,000 adults are still below 1 access point at national level" says a Bank of Uganda (BOU) report.
According to BOU, by 2013 the total number of branches in the country had increased to 658 branches and the ATM network had expanded to 835 in the same year.
The question is: How is this comparable to the current figure of over 53,000 transacting Mobile Money agents (and these are only exclusively on MTN)?
Uganda continues to be one of the most successful mobile money deployments globally to date. The country's telecos continues to innovate and introduce new, useful services on a regular basis such as paying government pensions and taxes through the system.
Instead of lining-up in banks, its now possible to pay KCCA, the city authority's taxes and levies through mobile money, a facility offered through a partnership between MTN and the authority.
Phrase Lubega, MTN Uganda's GM Mobile Financial Services told the media last week that MTN Mobile money is today integrated with several financial Institutions including 12 banks to 'push-and-pull' funds from their accounts. Some of these include Stanbic, Centenary, DFCU, Bank Of Africa and a couple of other banking' heavy-weights.'
Due to the success of such projects, Western Union (which used to exclusive remit through bank branches) has gone beyond partnering with banks, recently announcing that it had chosen Uganda as the first country to roll out its international remittance service in partnership with MTN.
Once the new international remittance service was activated, MTN subscribers registered for mobile money were able to receive Western Union Money Transfer transactions in their mobile accounts. In addition, mobile money users in certain countries are now able to send Western Union Money Transfer transactions directly from their mobile phones for payout at one of Western Union"s agent locations in territories around the world.
And this leaves us wondering, what is left for banks if Mobile Money is offering everything with "ease"?