News
UCC recognizes IT innovators at ACIA Awards 2015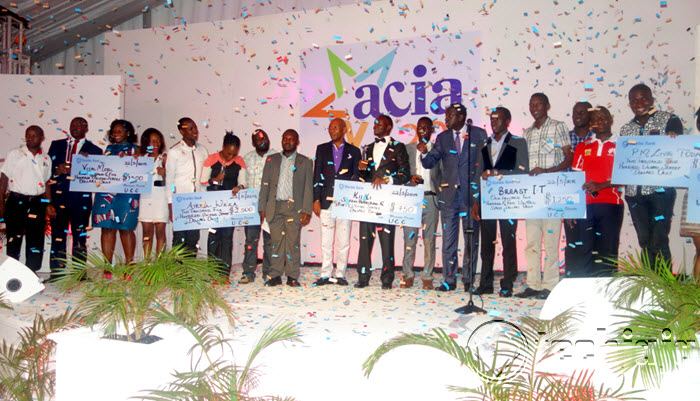 KAMPALA – The Uganda Communications Commission (UCC), through its Annual Communications Innovations Awards (ACIA), has recognized ICT innovators for introducing practical solutions.
Established in 2010, the ACIA Awards foster innovation through recognition and reward of outstanding ICT innovations. They provide a platform upon which outstanding ICT innovations can be showcased and propelled to further success.
Some of the winners of the night included Airtel Uganda, VitalMOBI, E – Citie (Electronic Platform for Citizens), Santa Lucia Basic School – Kirinya, Bweyogerere, PM Live today, St. Peter's Secondary School – Paliisa and Kiiki.
Airtel Uganda was recognized for enabling bulk rural transactions. The telecom received the ICT for Development Award for its 'Airtel Weza' innovation, made possible by a partnership with Grameen Foundation and Plan Uganda.  Airtel Weza, is a mobile financial solution that enables Village Savings and Loans Associations (VSLA) and other savings groups such as investment clubs to save their Group's cash as mobile money. This method of 'group' saving eliminates the fraudulent practices that have dogged some of these village SACCOS.
Fitted with features such as Group accounts, Record Management and Mini statements as well as Mobile Banking, Airtel Weza guarantees security, accountability, easy auditing and convenience by ensuring that the groups' money is controlled by three elected PIN holders who must approve any transaction. The innovation also encourages leadership by empowering the three PIN holders to lead and offer financial advice to their group members, with support from the regional Airtel Sales Executives.
UCC handed over a cash award of $2,500 and an Implementation Grant of $7,500 to the Airtel for the category entry "ICT for the rural disadvantaged" where it fronted the 'Airtel Weza' Innovation.
Prasoon Lal, Airtel Uganda's Marketing Director says that the telecom is keen on providing convenient financial solutions to its customers in far flung areas of the country.
"The Airtel Weza service is making the savings groups' processes more secure, efficient and transparent using Airtel money," Lal said.
Currently, Airtel Weza is being used by 134 Groups with a total number of 4,020 members in the districts of Kamuli, Tororo and Luwero districts and Airtel Uganda plans to extend this innovation to 1,000 groups. The aim according to Airtel is to bring financial inclusion to over 15,000 Ugandans across the country.
PM Live today took home the Digital content Award for the most innovative, locally developed, ICT solution aimed at improving the performance of an organisation (small, medium or large) in terms of efficiency, effectiveness or both. They also received cash award of $2500, Implementation Grant of $7500
Santa Lucia Basic School – Kirinya, Bweyogerere were the Young ICT innovators. The team of students showcased how they would solve problems that prevent people from using telecommunication, broadcast and postal services. They each received an Edu Tab, UGX400,000 worth of internet access for each team member from Vodafone, a  Mifi router from Smile Communications for the head teacher, set of text books by fountain publishers a cash prize of $1,000 to the School.
KCCA's E – Citie (Electronic Platform for Citizens) received the Business excellence Award. VitalMOBI was recognized as the most innovative ICT research project that improves the lives of Ugandans in any aspect of their daily lives (leisure and entertainment). The innovators received Cash award of $1500, incubation services from an Incubator valued at $5,000 and seed funding of $2500.
Judges' Choice was Kiiki, a communications app that translates sign language while the People's Choice Awards was taken a dynamo charger developer.
Uganda's Minister for ICT, Eng. John Nasasira said, "My ministry has developed a five year innovations development plan. We are establishing an innovations fund."
Judges said that the level of innovations was high and that they received up to 400 online submissions but had to zero down to 90.