Business
Opportunities for the travel industry: Will wearable technology become the next big thing since the smartphone
Nowadays, travelers are not only multichannel but also more digital and hyper-connected than ever. They can use their connected devices to interact with other users through online communities and social networks, follow well-known bloggers, and even get a more complete travel experience through augmented reality technology.
Wearable technology is predicted to become the biggest thing since the release of the smart phone. With this in mind, imagine the personalisation opportunities that wearable technology holds for the travel industry. A whole host of technology is available and under development, to create a truly personalized experience for travelers from smart clothes to wearable smart accessories.
Leading provider of advanced travel technology solutions, Amadeus highlights some of the key trends in wearable technology and the opportunities it presents for the travel industry.
What is Wearable Technology?
Put simply, it is advanced technology incorporated into things worn on a daily basis. A watch or bracelet that doubles up as a smart phone, glasses that are also a camera or a ring that monitors your heart rate. Wearable technology comes in varying forms to cover:
Head (including eyes and ears), back, waist, arms (including hands and fingers), body (including chest and neck), wrist and legs (including feet and ankles).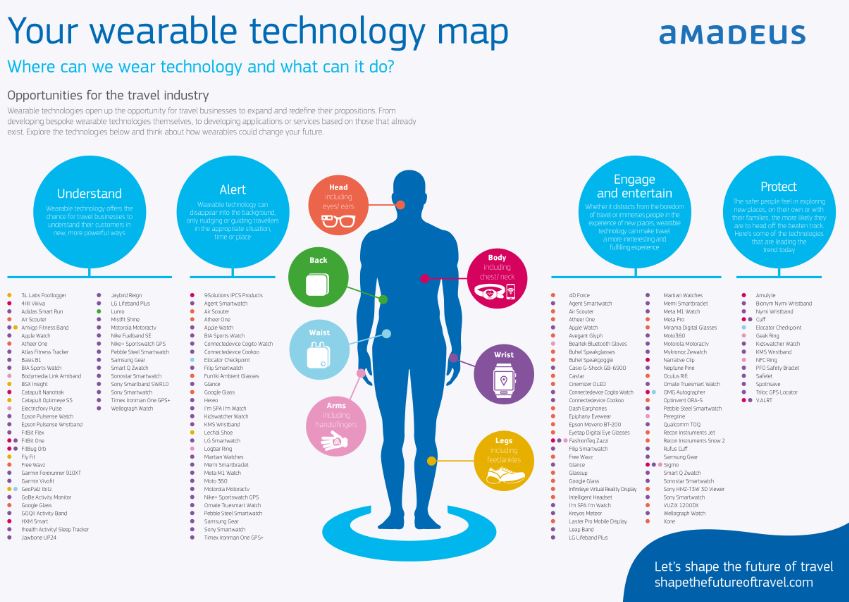 Enhanced benefit to the traveler
It may be easy to assume that more gadgets means greater need to carry, organize and manage these items as well as more intrusiveness. That's not necessarily the case. Wearable technology can serve to be tools that 'disappear into the background' only serving to remind or guide the traveler when relevant. A highly useful alert and reminder system.
A great example is the inconvenience and confusion caused by getting lost at the airport or forgetting the gate number and boarding time. Imagine that piece of information delivered straight to your watch. An alert reminder that it is now boarding time. Passengers would have the right information at the right time. The future is micro-moments, it is not in browsing through pages of data. Having it accessible on your wrist is the fast way to get information.
With the recent launch of the iWatch, smart watch apps are poised to significantly enhance all levels of travel.  At the airport, wearable boarding passes will allow travelers to board their flight with a flick of a wrist, whilst in resort they will be able to access local information, get the latest weather reports and book excursions with ease.
Airlines are increasingly using wearable tech to engage directly with their passengers and provide efficient, targeted service throughout the journey, from check-in to baggage. Virgin Atlantic conducted trials with Google Glass and Sony Smartwatch technologies to enhance the customer service experience for its premium passengers to overwhelmingly positive reviews. Passengers would be greeted at their car on arrival, travel itineraries reconfirmed and a weather update for their destination would all be shared prior to check-in; and all without breaking eye contact.
In 2015 we are likely to see more airlines and travel companies roll out such initiatives.
The Amadeus Mobile Messenger provides professional assistance for handling disruptive events such as weather events, political unrest or natural disasters such as the 2013 fire at JKIA airport, Nairobi. It allows 2-way communication with travelers at any time. This ensures the travel agent is always in complete control of the situation and provides peace of mind to travelers.
Greater Traveler Experience
Travel should be immersive, engaging as well as interesting. Many argue that travel has now become mainstream, globalized and predictable. The same 'cookie-cutter' experience across cities and countries. Through the accessibility of wearable technology travelers are likely to feel safer venturing off the beaten track to unfamiliar places. On-the-go tech also translates to the ability to arrive in a city and find "just-in-time" deals on everything from tours to hotels to meals. This trend is increasing in popularity with budget-minded travelers who are not fixed on a particular hotel or plan and will trade predictability for affordability.
Understanding The Traveler
Wearable Technology isn't simply a one-way communication tool. Smart travel companies will be able to tap into this medium to understand their customers in new, more powerful ways. Travel professionals need to respond to customers' demands in the most efficient way possible; they also need to be able to support consumers and give them a travel experience tailored to them and their needs. Customers constantly require relevant information to be at their fingertips and the travel industry needs to respond to that desire. Beyond providing professional assistance the Amadeus Mobile Messenger app can accurately assist travel agents profile travelers by their geographic location, assess a country's risk level in order to prioritize traveler safety communication and even assist stranded passengers.
What Does This Mean For Travel Industry?
Those that are innovative will look to engage with their potential audience through wearable technology replacing standardized sales pitches.
Hotels will strive to differentiate against the competition by introducing value-added services such as concierge on demand as they try to establish themselves as destinations in their own right.
Tour companies will be able to offer out-of-the-box tours with enhanced connectivity and connectivity to their travelers
Travel bookers will offer a more personalized package to suit the lifestyles of their clients.
Those that are able to embrace wearable technology will benefit the most, particularly within the East African market.
Article by Amadeus.com