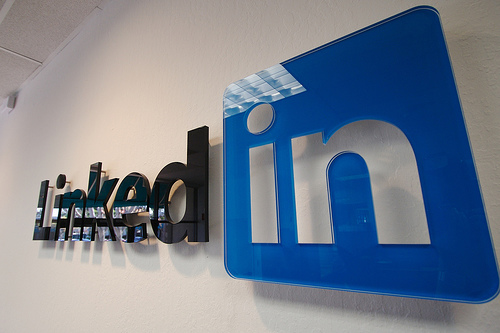 May 5, 2003 marks a historic moment for one of Silicon Valley's biggest and well-known companies. It has been a decade since LinkedIn was founded by Reid Hoffman, Allen Blue, Konstantin Guericke, Eric Ly, and Jean-Luc Vaillant as a business-related social network. I
It has grown up to become a successful public company with more than 225 million members and nearly $325 million in quarterly revenue.
It has certainly played a big part in bringing professional lives online and making them more social.
LinkedIn is proof of that Simply finding an appealing job and submitting a resume isn't enough — now companies are looking for personalized approaches and recommendations from networks.
It has established itself as an international company, with more than 3,700 employees around the world, including in Mountain View, California, Chicago, Los Angeles, New York, Amsterdam, Dubai, Hong Kong, Milan, Mumbai, Paris, Singapore, Tokyo, Toronto, and several others. It is available in 19 different languages too — besides English, there's Czech, Dutch, French, Indonesian, Italian, Malay, Polish, Romanian, Russian, Spanish, Swedish, and more.
LinkedIn revealed a breakdown of its 225 million registered members. Naturally, the majority are from the US — after all, this is the company's country of origin. The next largest country is India with 19 million, followed by Brazil with 12 million, and the United Kingdom with 11 million.
It started in the heyday of services like Friendster and MySpace when creating yet another social network was probably not all that easy. But LinkedIn's founders sought to appeal not to the teenagers and young adults who wanted to share their updates with the world, but more towards those who were into professional development and looking for a new way of doing business.
Guericke described what made LinkedIn different from those traditional social networks:
"We're here to build a business, not to create something cool. MySpace and Facebook have done really well. And I think they can monetize what they have built, probably by adding in more e-commerce. But I think the opportunity on the business side is ultimately larger.

"People who have been working for at least 10 years have a network. It doesn't come from networking; it just comes automatically, from going to work. But people tend to lose touch.

"Those networks are valuable. I see business as a Darwinian enterprise. People tend to hire and make other business decisions by drawing on these personal networks. Is a job candidate honest or hard-working? You can't tell from a resume or even from an interview. That's why people fall back on trusted relationships."
When LinkedIn was started back in 2002, the industry was in a "dot-com winter," consumer Internet ventures were looked upon with skepticism and it was important for it to distinguish itself from everyone else. Keep in mind that the "dot-com bubble" burst in 2000 so the introduction of another service that some thought was going to be big lacked market confidence. Hoffman said in an interview with CNN Money in 2009
Hoffman didn't let that deter him. In that same interview, he said that starting a business during an economic downturn is the "exact right time to do it because it gives you runway." When LinkedIn began, naturally the company moved cautiously to make sure that its system worked.
One of the first challenges that the company set itself to overcome was just how it could hit a million users. That was the goal and nothing else. Hoffman admitted that LinkedIn wasn't trying to work on a business model, at least not until 2005.
According to Chris Saccheri, formerly LinkedIn's Director of Web Development, in the early days, user adoption was rather slow. In the first week, the service had 2,500 users, which grew to 6,000 after the first month. Within six months, there were 37,000 users.
Two years after launching, LinkedIn had more than 1.7 million professionals signed up and began unveiling several ways for it to make money.
The first involved the launch of LinkedIn Jobs — combining online job listings with its recommendation engine. The service sought to separate itself from other job boards like Monster, HotJobs, and CareerBuilder by utilizing its LinkedInsight feature, which claimed to let hiring managers assess a candidate's viability through their relationships, references, and reputation.
LinkedIn also tried its hand at generating revenue through a subscription program, which offered enhanced communications and better search features. Of course, the last one involved advertising right on the site. It wasn't something Hoffman and his team thought about right off the bat and obviously he changed his mind. The reason is because not only did LinkedIn have appealing the demographic targeting data, but also because LinkedIn thought it was able to build unique business products.
Today, these revenues have helped the company make $325 million in this past quarter. Of note, the bulk of it comes from its Talent Solutions business unit, the service for recruiters, and comprises 57 percent of LinkedIn's total revenue distribution.
In 2012, co-founder Allen Blue was asked about the future of his company, to which he replied that LinkedIn's role has always been to help every professional find a job that they love and be great at it. He believes that soon there will be a world where "people are doing what they love, not just what they have to. Where professionals understand that the work they do is one of the most significant ways in which they can contribute to their communities and the world."
In the past decade, LinkedIn has surely changed the networking paradigm that millions of people were accustomed to. No longer are we hunting through newspapers or doing speed dating for business professionals.
Many of us have abandoned Monster, CareerBuilder, and other traditional online job boards in favor of LinkedIn because it appears to offer more context into not only what we can share about our professional accolades, but also learn about new opportunities, companies, and the people we want to be connected with.
When LinkedIn first started, it was a social network for professionals, where users could host their resumes online. The purpose for many was to seek out jobs and have their colleagues and mentors leave recommendations to bolster their credibility. But in the ten years since, it has slowly evolved into more of a contact relationship management service, but for individuals.
While perhaps fully capable of building out these services, the company opted instead to acquire those that best fit its needs.
In its history, eight companies have been acquired by LinkedIn. The first was mSpoke in 2010 for its "adaptive personalization engine" and continued on with ChoiceVendor for its business reviews offering. Soon other purchases were made over the next three years, some for its business-facing service while others were for its core users.
The acquisitions of CardMunch, Connected, Rapportive, SlideShare, andPulse have gone on to strengthen the ability for users to network on the LinkedIn platform. Because the company embraced the mobile age, these purchases didn't seem to be far-fetched. With CardMunch through to the adoption of Pulse, LinkedIn has made it possible for a person to manage their contact relationships from its very beginning when a business card is presented, through to maintaining the friendship by following their updates and keeping in touch.
Credit: TNW