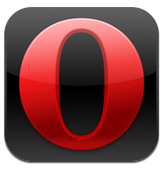 Just a month ago, Opera announced its plan to build browsers based on the open-source WebKit and also shown preview builds at Mobile World Congress, its new browser for Android has been released in beta. The new browser, which Opera says will be quicker thanks to the WebKit switch, features a new user interface and integrates Opera Mini to offer the choice of a data optimized or a full-on browser experience.
The browser runs native Web apps, but the headline feature is Discover, which recommends content for users — encouraging a "lean-back surfing experience", as  CEO Lars Boilesen puts it — based on a range of factors that include previous clicks, Web page history and their location. On the downside, Discover content is curated by Opera itself and is not automated.
It also includes other new features which — while regular on rival browsers — mark a change for Opera: private browsing and a unified URL-search bar.
Some 230 million of Opera's 300 million monthly active users are on mobile, of which 50-60 million are Android users, so Boilesen told us at MWC in Barcelona. The Opera CEO points out that, with employers not longer working on its Presto engine, Opera has more resources to develop features for its browsers — that's good news for Opera users.
Opera had a busy month in February, during which it snapped up video optimization firm Skyfire for $155 million and united its mobile advertising businesses under one roof.
You can grab the new WebKit-powered offering for Android at the link below:
Opera Browser (Beta) – Google Play
Source: The Next Web