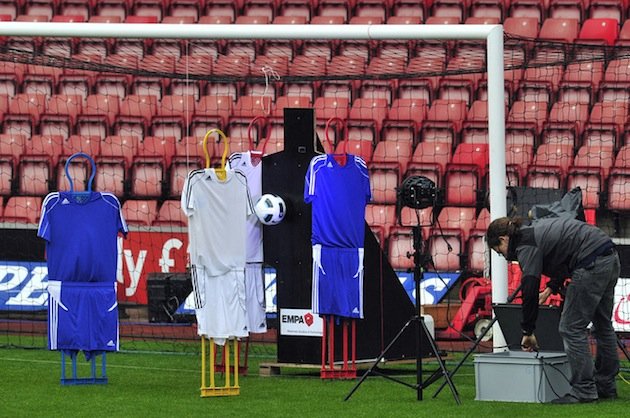 FIFA has licensed two manufacturers to install goal-line technology in stadiums across the world. FIFA announced in October it had approved the use of technology which would help officials decide whether or not a goal had been scored, with providers Goal Ref and Hawk-Eye now licensed to produce their respective systems.
Both companies were tested between October 2011 and June 2012 and have been inspected in simulated and real-life match situations.
The technology will be used for the first time at the 2012 FIFA Club World Cup in December.British company Hawk-Eye is already well established within sport. The technology is already used in both tennis and cricket. Crime and punishment in sport: Laying down the law?
Goal Ref has been developed by German research institute Fraunhofer and involves using magnetic strips inside the ball to detect whether or not it has crossed the goal line.
However, both Goal Ref and Hawk-Eye's technology must now pass a stadium test before either system can be used in a match."Once a system has been installed in a stadium, the system undergoes a final inspection to check its functionality," read a statement on FIFA's website.
"This is carried out by an independent test institute, and the results of this so-called 'final installation test' must be successful. Only a positive final installation test qualifies a system to be used in official matches."While other sports embraced goal-line technology, football dithered over its introduction.
FIFA chief Sepp Blatter was only finally convinced of the need to provide technological help for referees after England were not awarded a goal despite Frank Lampard's shot clearly bouncing inside the goal during a 4-1 defeat by Germany in the 2010 World Cup in South Africa.
However, Michel Platini, head of European football's lawmakers UEFA, remains a staunch opponent of the use of technology in football. UEFA has confirmed goal-line technology will not be used in European competitions such as the Europa League and the Champions League.Europe's continental competitions will instead persist with the use of extra officials behind the goal to inform the referee's decisions.
The English Football Association is a well-known advocate of goal-line technology, although the announcement has come too late for either system to be used in this season's FA Cup.
Source: CNN