News Archive
The Best iPod browser Alternatives other than Safari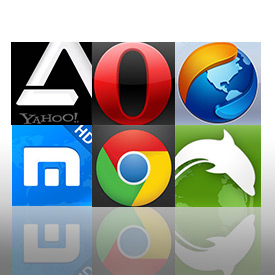 You could say that these "browsers" are actually just Safari wrappers.And it gets worse: any browser other than Safari will by necessity perform some Web actions much slower than the stock browser.
This is because Apple doesn't allow third-party "browsers" to use a JavaScript accelerating engine like its own Nitro, used in Safari.
So even though Chrome on the desktop has a wicked fast JavaScript engine called V8, the Chrome iPad browser is unable to take advantage of it.
But since JavaScript is only a factor for websites that are very app-like, for general webpage viewing you won't notice any difference in page display from Safari.
There is, unfortunately, one more serious limitation on third-party browsers, thanks to our friends in Cupertino: The company has dictated that no other browser besides Safari shall be able to launch the default browser.
That means that whenever you click on a Web link from another app, the only choice is for Safari to launch and load the site.
With these limitations in place, you may ask, "What can an alternative browser possibly offer, since Apple has so seriously hobbled such software?" The answer turns out to be "a lot!" For starters, some of the apps listed below offer a full-screen browsing mode crucial for the tablet's far-from-expansive surface area.
Most of these apps also add the ability to sync bookmarks and sometimes more with counterpart desktop browsers. And one hugely useful capability that some add is gesture navigation a great help in browsing on a multitouch tablet, especially if you're in a full-screen view.
Those are just a few of the extras you can get by choosing one of the apps. Dig into the linked reviews to find lots more.
FEATURED IN THIS ROUNDUP
Google Chrome for iPad 
FreeChrome has garnered a lot of fans, thanks to its speedy browsing on the desktop, but speed isn't why you'd use Chrome on the iPad. Syncing your bookmarks, preferences, history, tabs, and passwords is a prime reason, as is the simple familiarity of the browser's tab design. But you'll miss out on a lot of ace benefits found in other apps listed here, like full-screen browsing and gesture input. 
Dolphin Browser for iPad
  Free Dolphin is one of your best alternative iPad browser options: It offers full-screen browsing and the most extensive gesture capabilities. You can even create your own custom gestures and launch sites of your choice. Its Webzine feature makes any site look and behave like an iPad publication app, complete with swipe navigation. But you lose Safari and Mercury's reading view, as well as the latter's ability to sync to a desktop browser (Firefox) and more fluid tab implementation. 
Maxthon for iPad
FreeMaxthon for desktop is an amazingly feature-packed, fast, and standards-compatible piece of software, but the company's iPad entry is lackluster and disappointing. A few things it does offer, though, are syncing, screen capture, and gesture input. This browser lacks a full-screen view, and its tab implementation is a bit rigid. 
Mercury Web Browser Pro for iPad 
 $0.99 (free version available)With the most extensive list of browsing helps of any iPad browser, Mercury is our Safari alternative Editors' Choice. You can get nearly all of Mercury's browsing benefits in the free version—full-screen view, gesture support, reading mode, themes. But if you want syncing with Firefox, built-in Dropbox uploading, and printing, you'll have to spring for the Pro version's dollar price.
Opera Mini Free 
The only app here that isn't simply a wrapper for Safari, Opera Mini is also the only iPad browser alternative that can actually speed up your browsing. But there is a cost—you don't get the full Web, with only limited support for app-like sites' use of JavaScript. On top of this, it adds syncing of bookmarks and Speed Dials with Opera on other devices or computers, and an innovative approach to tabs on touch tablets.
Yahoo! Axis for iPad 
 Free Yahoo! Axis is a totally new take on Web searching show the answer pages rather than a list of links. This browser incorporates this concept while also serving as a full-fledged iPad browser (though it uses Safari's webpage rendering). Axis also takes a new approach to tabs for touch tablet browsing, using large, easy to manipulate tiles instead of the small traditional desktop browser tabs. Its use of swiping gestures is perfectly suited to the iPad.
Source:PC MAG