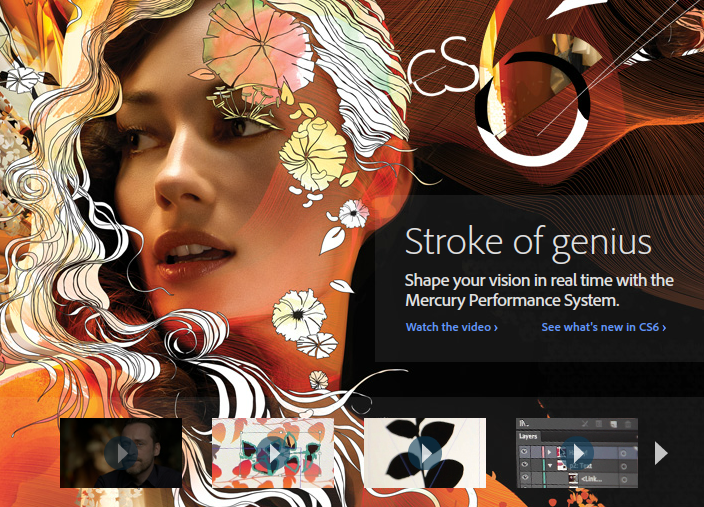 Adobe Creative Cloud, meanwhile, will be Avaiable, Adobe Creative Cloud will make all of the CS6 apps available to subscribers for download, and offer online services for sharing and publishing content created with the suite.
"We announced Creative Cloud and CS6 two weeks ago and these releases have caught the imagination of creatives everywhere," David Wadhwani, senior vice president of Adobe's Digital Media Business, said in a statement.
"Today we're shipping CS6 and look forward to the beginning of an exciting new era as we introduce Creative Cloud later this week."Adobe CS6 is available through Adobe and its re-sellers now.
Pricing starts at $1,299 for CS6 Design Standard and moves up to $1,899 for CS6 Design & Web Premium or CS6 Design Standard, and $2,599 for CS6 Master Collection.
Adobe is also offering tiered upgrade pricing, depending on how long you've had your current version, which it outlined last month.
For more, see full review of CS6 and its components:
Adobe Releases Creative Suite 6 (CS6): The leading digital media design software gets major overhaul and new online subscription pricing. $895.00 at Software Tech store
Adobe Photoshop CS6: Sure, it's pricey, but Photoshop CS6 moves the bar even higher for image editing software, now with serious video editing, content-aware editing, and a cleaner interface.Check out the slideshow below, too. $249.99 at Dell SMB.
Adobe Photoshop Touch (for iPad): Adobe has done an excellent job fitting its leading image editor to tablets.Using Photoshop Touch is easy and intuitive, but don't expect anywhere near full Photoshop power.
Adobe Dreamweaver CS6: Adobe Dreamweaver CS6 is far away the world's most powerful Web editor, though it's a little rougher around the edges than its admittedly less-capable, Windows-only rival, Microsoft Expression Web. $377.00 at Software Tech store.
Adobe InDesign CS6: The go-to software for page designers the world over, Adobe InDesign CS6 easily earns our Editors' Choice and five stars for its wonderful flexibility and support for designers' creativity. $550.00 at SaveInTheUSA.
Adobe Illustrator CS6: Adobe Illustrator CS6 remains the number-one vector drawing tool, particularly for professionals. $491.00 at Save InTheUSA.
source: PC MAG