News
How to choose the right Toshiba Ultrabook for your needs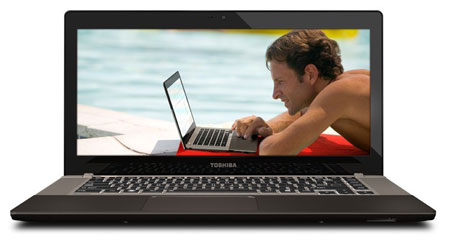 The Toshiba approach"Toshiba has a heritage of designing ultra-light and thin laptops within the Portégé range," explains Ken Chan, senior product manager, B2B Laptops, Toshiba UK.
"The Portégé Z830 was an evolution in our thinking. It's primarily aimed at businesses, and we wanted to ensure that the business world didn't miss out on the benefits of Ultrabook design, without compromising on features such as Windows 7 Professional and Intel vPro support."
Toshiba's Portégé Z830 is certainly the most business-friendly of the current Ultrabook crop, but where the phrase "business laptop" used to a byword for dull, the Z830 is anything but. For a start it's stunningly slender, measuring 8.3mm at its slimmest point.
And Toshiba crams a huge amount into its ultra-thin chassis. A USB 3 port, SD card reader, headphone and microphone sockets adorn its sides, with its rear edge concealing two USB 2 ports, Gigabit Ethernet and full-sized D-SUB and HDMI ports (some of its Ultrabook rivals sacrifice full-sized ports, forcing you to carry an adapter if you need to use them on your travels).
Anyone who travels with their laptop will also appreciate the excellent battery life of over eight hours (in PC Pro's light-use battery tests).
Choosing the right model,Toshiba has produced five different models in the UK, all available from Misco. So how do you choose between them? One key point is that, in terms of physical design, all the products are the same.
What differs is the specification: how fast they are, which wireless technologies they include (mobile broadband in particular) and which operating system they use.
Toshiba Portégé Z830-10N,This is the most affordable Portégé, costing £569.99 exc VAT (£683.99 inc VAT) from Misco. While its processor is the lowest specification on offer, it's by no means slow: the 1.4GHz Core i3-2367M has proven to a strong performer in PC Pro's benchmarks, especially when coupled with the 4GB of RAM Toshiba provides.
That said, if your top priority is video editing or similarly intensive applications then you should consider a faster processor from Intel's Core i5 or Core i7 processor.
Note that it uses Windows 7 Home Premium, which is an excellent OS for home use but less suited for businesses. For example, you can't join a domain with a Windows 7 Home Premium laptop.
Toshiba Portégé Z830-10P,The key difference between the Z830-10P and the Z830-10N is the operating system. With Windows 7 Professional in place it's a natural choice as part of a business fleet.
Toshiba Portégé Z830-104,Use the Z830-104 and Z830-10P side by side to perform an processor-intensive task and you'll see the difference: with a Core i5-2557M chip inside, capable of jumping to 2.7GHz when it needs an extra power boost, the Z830-104 is a great performer.
If you need a laptop with potent power on tap when you need it most, it's a natural choice over the Z830-10P.
Toshiba Portégé Z830-10Q,Glancing through the specs you may think the only change between the 104 and 10Q is the amount of RAM on supply: 6GB compared to its lesser brother's 4GB. But for frequent travellers, it's the built-in mobile broadband radio that will make the difference.
Slot a SIM card into the slot, and you'll benefit from high download speeds associated with the latest 3G networks: HSDPA, HSPA Evolution and HSUPA are all supported.
Toshiba Portégé Z830-11J,And at the very top of the Z830 range is the 11J. This offers yet more grunt, thanks to an Intel Core i7-2677M processor capable of running at 2.9GHz when the task at hand requires maximum speed.
With 8GB of memory in place, it's a true desktop replacement – few people will ever need more performance than the 11J can offer.
source: PC PRO