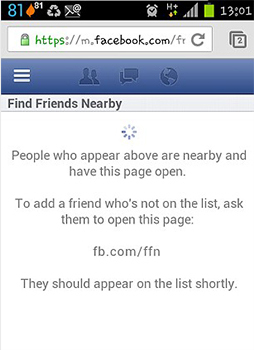 the mobile web and the app menus in Facebook's iOS and Android apps. It was reportedly a hackathon project, although some reports suggest the app could have been the work of one of Facebook's more recent acquisitions, ambient social location startup Glancee. Attempts to access the app on a variety of platforms have resulted in a smattering of various server errors, which hints that this may be less than an official, worldwide launch.
It's an interesting (if not unexpected after the Glancee acquisition) move for the big blue social network, and already has some developers claiming that Facebook stole their idea for the app.
Of course, Facebook already has location-based functionality in Facebook Places, but Friends Nearby is different. It's not about checking in somewhere and tagging your friends; it offers more opportunities for users to add new Facebook friends on the go. But if you're not too fond of random friend requests, I suggest you don't log into the app in a crowded area.
Originally, By Lauren Granger,MemeBurn