News Archive
East Africa's Reduced Internet Speed Caused by Ship's Anchor at Mombasa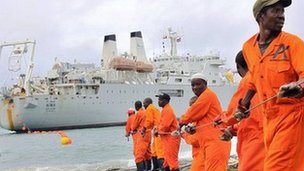 Dropped anchor
Cables run by Teams, which is partly owned by the Kenyan government, and Eassy – a consortium of telecoms companies – were damaged at the weekend.
Internet service providers and mobile phone operators have re-routed to the Seacom link – which was not damaged by the dropped anchor.
But the companies have only bought a small amount of bandwidth because of cost.
The BBC's Noel Mwakugu in Nairobi says as a result internet connections are expected to slow down by 20% in Kenya, Rwanda, Burundi, Tanzania, Ethiopia and South Sudan's capital, Juba.
Seacom – the first to be up and running – links East Africa to Europe, India and South Africa.
Teams links the region to the United Arab Emirates – and Eassy, which went live in July 2010, links countries along the East African coast.
Correspondents say that since then, the increased bandwidth has given a boost to mobile services and the burgeoning tech scene of home-grown developers, programmers and designers in Kenya.
In the first 12 months after the cables arrived, the number of internet subscriptions in the country jumped from 1.8m to 3.1m.