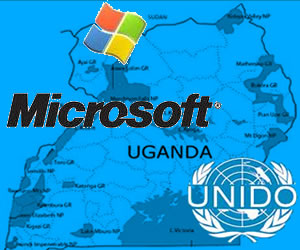 According to the agreement signed at the information and communications technology ministry in Kampala recently, Microsoft will provide training, technology and technical support to the two centres based at Makerere University and at the Uganda Green Computer Company in Kampala.
Microsoft will also link the centres to Microsoft innovation centres worldwide for skills transfer and advise on policy.
Two other computer firms, Dell and Hewlett Packard will supply hardware, software and specialised fittings for the centres.
Speaking at the signing ceremony, ICT minister Dr. Ruhakana Rugunda said the centres would create jobs and address the country's development challenges.
"Uganda's development is in information technology. It is in the ability to create and use software not the number of hoes and tractors we have," he said.
The Government's role in the programme will include reviewing the ICT education policy, providing incentives for patents and reviewing and implementing laws relating to the use of refurbished computers.
The Government will also be a member to an advisory board and shall mobilise resources to support the centres.
UNIDO will promote the use of local software by small and medium enterprises and guide the implementation of the programme.
Dr Ruhakana Rugunda promised government support to the programme and urged stakeholders to ensure its successful implementation, New Vision reports.
"It is common for people to sign documents and pile files on shelves. Let this one be different so that it helps young people to develop skills to change their world," he said.