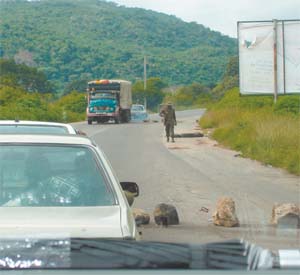 "Corruption at border points is as a result of ignorance. If an innocent person had the information of how customs works, he cannot be asked to pay Sh5 million in bribes," he said, adding: "The portal would assist EAC partner states to identify areas that still have non-tariff barriers for elimination."
The minister said Rwanda was poorly ranked by the World Bank in the ease of doing business because of factors beyond its control. He blamed it on delays in the clearance of goods at the Port of Mombasa and a poor infrastructure.
He said NTBs in Kenya and Uganda directly affect both the country's imports and exports "as we have no control over the infrastructure or the number of roadblocks."
With the launch of the new facility, experts say the region should put it into proper use to boost intra-regional trade, reports New Times.
"The cost of moving data and the ability to collect, shift and interpret information has fast fallen. This should dramatically improve efficiency and lower the cost of managing trade," said John Bosco Rusagara, the President of the regional freight forwarders apex body, the Freight of Federation of East African Freight Forwarders Associations.
Common platform
He said freight forwarders and clearing agents within the region would no longer have to search for information relating to duty, regulations and procedures of imports and exports.
"In each of our countries customs, police, immigration, standards, health and ports authorities share responsibility to enforce laws. A common data platform to implement our control systems will vastly improve our ability to do this efficiently," Rusagara told the New Times
The on-line database is a tool that would be used to aid the clearing and forwarding agents understand trade requirements as they carry out their daily activities. The portal was developed with support from Trade Mark East Africa as part of the efforts towards establishing a single window system in the EAC.
It is expected to significantly contribute to a reduction in the cost of doing business in the region as clearing and forwarding agents will substantially spend less time searching for relevant trade documentation, procedures and regulations governing cross border movement of cargo to and from the EAC partner states.