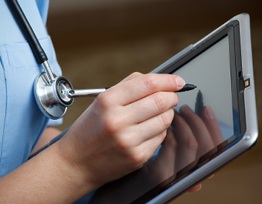 Patients and informal providers in Bangladesh routinely seek advice from doctors supporting HealthLine, a subscriber service implemented by the Grameen mobile telephone company.
Health information systems for HIV and AIDS services in Rwanda – including TRACNet, a mobile phone-based system that allows tracking the use of anti-AIDS drugs through text messaging – are widely regarded to have been improved by the introduction of data transfer via mobile phones and personal data assistants.
Medical staff world-wide have many opportunities to update their skills through internet-based advice and training initiatives. For example, Moorfields Eye Hospital in London provides an internet-based consultancy service for ophthalmology patients in a number of African countries.
More speculative issues arise for innovations that might shift the existing provider-patient paradigm. Take the use of 'expert-systems' to guide diagnosis, recommend treatment and monitor implementation. This was recently piloted by a chain of private clinics in South Africa and a pharmacy franchise in Mexico (a 'social-entrepreneur' – a private company aiming to be economically successful and to improve social welfare). It could transform existing power relations within the health sector by circumscribing the behavior of professional staff.
Where patients struggle to find competent and honest providers either in the public or private sectors, new types of institutions, able to demonstrate that ICT-based 'self-regulatory' mechanisms can deliver quality care at reasonable cost, may prove attractive.
ICTs can also transform informal regulation by providing people with the knowledge they require to challenge existing practices and make more rational health care choices. Communications networks that allow those facing health problems to share information, identify trustworthy providers, seek advice or campaign for improved treatment are central to such forms of empowerment.
As clearly evidenced by those organisations campaigning for better care for those with HIV and AIDS, such as the World AIDS Campaign, ICTs can extend these networks beyond family, community and national boundaries through information delivery.
Medical staff worldwide have many opportunities to update their skills through internet-based advice and training initiatives
These developments may prove beneficial for many but it would be naïve to ignore the risks. Becoming a 'trusted intermediary' in one of these networks, able to mediate debates and influence activities, could provide an attractive power base for those wishing to use them to gain financial advantage, prestige or support for their religious or other convictions.
Experience of the internet does not encourage us to believe that the most trustworthy individuals or institutions necessarily become the most popular or influential communicators. Even leaving aside such concerns, there would also seem to be an inherent risk of biasing the allocation of health resources towards the most high profile health conditions and advocates.
Those working on health systems have traditionally encouraged 'evidence-based planning and priority setting' in order to address both equity and efficiency concerns.
A world in which multiple disease-specific networks, possibly funded by international drug companies, use ICTs to compete for the attention of governments, donor agencies and private enterprises, may undermine that approach.