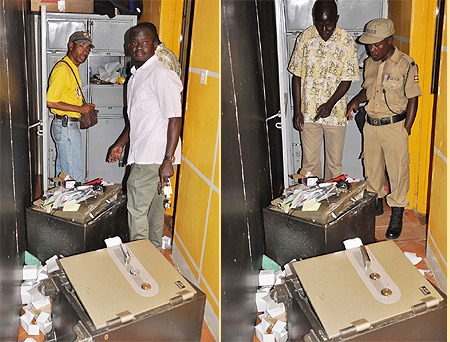 "When I reported to office in the morning I saw the padlocks I had used to lock the doors broken. When I entered, I noticed that the place was looted. 
I saw my safe where I had kept airtime worth 60m broken and also two more safes that we had  kept cash also broken , and yet we have security officer that was guarding" Eegu said. 
Commenting over the incident, Gedion Oine attached to Alfa Guard Company said, "I left in the morning for home not knowing that the place was broken." 
Eegu explains that he discovered that the office was raided as he reported to the office in the morning and immediately reported the matter to police. 
Meanwhile the sniffer dog handler Samuel Byenkya , said  the dog led them through  the small gate that enters Garden Anex lodge  to Apegu's place where some people commonly drink local brew and  afterwards to the tarmac where their investigations were interfered. 
The public relations officer Mid-Eastern, Juma Nyene Hassein said, "We have opened investigations and we are trying to see if there were some out siders who connived with people working inside MTN to carry out the theft. We have not yet established what was stolen but we are waiting for the report from auditors who are trying to ascertain what exactly was stolen."