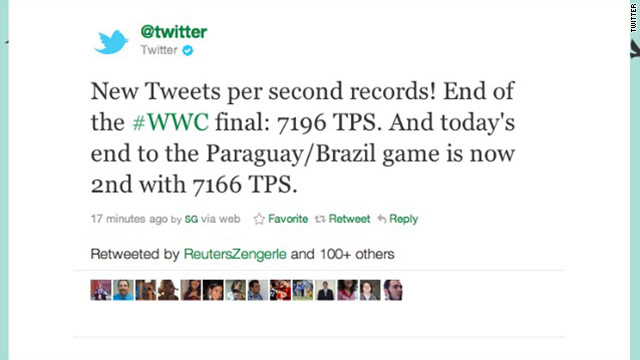 The Paraguay vs. Brazil game is the new number-two spot with 7,166 tweets per second, according to a tweet sent by @Twitter.
The previous record was set just as New Year's Day began this year in Japan — with 6,939 tweets per second. The Women's World Cup Final also far outpaces the Men's World Cup 2010's most-tweeted match: 3,283 tweets were sent per second when Japan beat Denmark.
It's certainly curious that all of these top-tweeting moments occurred around Japan.
As far as non-soccer sporting events go, in February, Twitter users outdid themselves during the Super Bowl, compared to previous years, with 4,064 tweets sent per second.
See a collection of some of the tweets sent after Sunday's USA vs. Japan final on Mashable.com.
Source: CNN News