News Archive
Uganda: Second Hand Computers – a Cause for Concern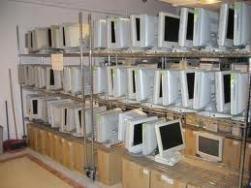 When the ban was implemented in May 2010, importers of second hand appliances were the first to cry out. And not without reason: the 'E-waste Special Interest Group' has estimated that 80 percent of Uganda's 200 ICT enterprises have gone out of business or have been relocated since the ban.
This cost Uganda over a thousand skilled jobs and left former customers without a source of affordable IT hardware. Second hand appliances started running out and consumers, on their turn, started to raise their voices.
Second hand is recommended
"When someone with little money asks me for advice on what computer to buy, I advise them to buy second hand," says IT teacher at Kampala's Makerere University, Richard Ssekibuule. "They're cheaper and better than new, unbranded ones. In many cases unbranded computers fail, because they have faulty components such as processors that didn't pass manufacturer's tests."
A second hand computer, costing about 200 dollars, is within reach for the average Ugandan. There is a vast difference with unreliable unbranded computers, which sell for 600 to 800 dollars.
Harboured in electronics are heavy metals like lead and mercury. These pose a danger to the environment and public health if they are not recycled carefully. In Uganda, efforts to build the necessary infrastructure have so far been delayed.
Killers of the competition
Regardless, Ssekibuule was surprised to find out how much Ugandan politicians fear e-waste. "We have lots of poorly managed waste but electronics form only a very small component of this mismanagement. This e-waste is negligible because a very tiny fraction of Ugandans can afford computers."
Rather than to a love of nature, Ssekibuule attributes the ban to competition-killing lobbyists from firms that import new, unbranded computers. "For a person importing unbranded computers, it would make great business sense for them to have a ban slapped on second hand computers and other electronics."
Charities donating used computers to educational facilities are not exempted from the ban. Photographer Arthur Kisitu teaches ICT to children in the poor Katanga area of the capital Kampala, as part of the Sweet Home UGAnda project. Because of the ban, his project could not receive used computers that were offered by a friend.
Lost gold and silver
"Sometimes policies are enacted by politicians whose children study abroad," Kisitu says. "They are not in touch with reality."
Importer of second hand computers Robert-Jan Nieuwpoort remembers when he first heard about the ban: "I thought: 'Why?'" At the time, Nieuwpoort had been collaborating with Uganda's government to set up recycling facilities in Uganda. "By the time the computers I imported were no longer useful to anyone, I wanted them to come back to me, so I could recycle them responsibly."
"There is money in the recycling and refurbishing business, for example, you can extract gold and silver from motherboards. You need a large supply of used computers though, roughly 5000 per month. Since about 300 000 computers entered Uganda between 2004 and 2007, there's is enough material to start an industry and avoid a build-up of e-waste."
The government's environmental agency promised to the construction of an electronic waste management centre in 2010. But Nieuwpoort has not heard of them since, and is struggling to stay in business. "I've paid countless visits and sent even more letters, but they do not answer, and they're not there. Lifting the ban would be the best thing for my business. And even more so, for Uganda."
allafrica.com.