News Archive
McAfee appoints New Director to SA and Sub-Saharan Africa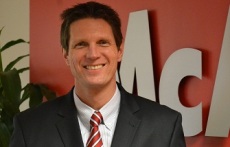 Hockley is a seasoned veteran of South Africa's Information Technology (IT) industry with more than 22 years experience in hardware, software, datacentres and IT infrastructure. Most recently, he was General Manager at ICT services and solutions provider, Dimension Data, and he has previously held posts at IBM SWG.
"I have been looking for an opportunity in which I could really make a difference and McAfee has explosive potential," says Hockley.
"As the world becomes increasingly connected, IT security becomes increasingly relevant to both business and consumers. The business and private world has been through phenomenal change because of this connectivity. New applications are opened up almost daily to diverse individual users, making it nearly impossible for businesses to survive in isolation.  The Internet has simultaneously created massive business opportunities and considerable exposure to risk."
"In light of this, security has become critical," says Hockley.
"And with its established and broad IT security solutions offering, McAfee is well positioned to enable everyone, from consumers to the largest businesses and governments alike, to move forward in a security connected world."
"As a result, I am extremely bullish about McAfee's South African and Sub-Saharan business opportunities and have exciting plans for the company," says Hockley.
"McAfee is already well established, has good people, a strong culture and the potential in an emerging market like South Africa.  Coupled with the landscape of IT proliferation throughout the region, it is truly great opportunity for us," says Hockley.