News Archive
MTN & NWSC introduce Mobile Money payment option for Water Utility Bills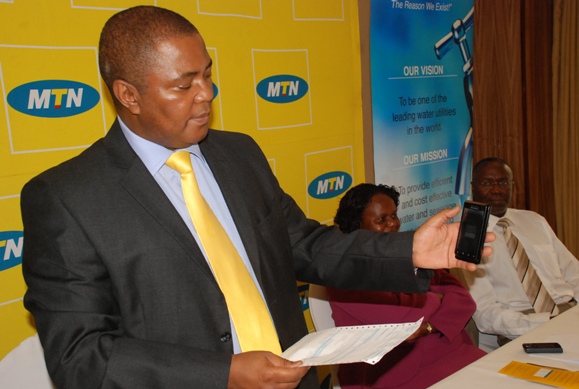 NWSC Customers will pay their water bills using MTN Mobile Money, off an easy-to-follow menu updated on all MTN Mobile phones.
Announcing the innovation, MTN Uganda Chief Executive Officer Themba Khumalo congratulated the NWSC team for adopting MTN Mobile Money and its benefits.
"When we first introduced MTN Mobile Money, we saw the endless possibilities it presented to individual subscribers and to organizations such as NWSC. However, the speed with which you have taken MTN Mobile Money on for utility payments is gratifying, and sets you apart from the rest as visionaries," Khumalo said.
Commenting on the innovation, NWSC Managing Director, Dr. William Muhairwe said mobile bill payments increased reliability of water supply to customers.
"The convenience of MTN Mobile money to our customers is what we as a customer centric organization are looking for because it is a real time solution and will eliminate delays in updating customer accounts as well as the need to physically move to pay your bill or check your account balance. When customers find making payment so simple, they will certainly keep their accounts up-to-date and will therefore never get disconnected. Our desire is to ensure that our customers get the best service in the most convenient way possible and innovations that lead us towards that goal like this product is what we are after because at NWSC, the Customer is King."Muhairwe said.
The MTN Mobile Money service was initially launched as a person-to-person transfer service, but has since launch in March 2009 began to be adopted by corporate bodies such as Multichoice Uganda for DSTV subscription payments, and now NWSC.
"Since we launched MTN Mobile Money, approximately 1.5million users have registered for the service, and we have over 2500 agents across Uganda. Over 1.7 trillion Uganda shillings has been transferred countrywide, which proves that the service is vital to more and more people in their daily lives," Khumalo added.
The service is available to all MTN Mobile Money registered customers.
ABOUT THE MTN GROUP
Launched in 1994, the MTN Group is a multinational telecommunications group, operating in 21 countries in Africa, Asia and the Middle East. The MTN Group is listed on the JSE Securities Exchange in South Africa under the share code: "MTN". As at 31 March 2010, MTN recorded 123,5 million subscribers across its operations in Afghanistan, Benin, Botswana, Cameroon, Cote d'Ivoire, Cyprus, Ghana, Guinea Bissau, Guinea Republic, Iran, Liberia, Nigeria, Republic of Congo (Congo Brazzaville), Rwanda, South Africa, Sudan, Swaziland, Syria, Uganda, Yemen and Zambia. The MTN Group is a global sponsor of the 2010 FIFA World Cup South Africa™ and has exclusive mobile content rights for Africa and the Middle East. Visit www.mtn.com and www.mtnplay.com
ABOUT NWSC
National Water and Sewerage Corporation (NWSC) is an autonomous public corporation 100% owned by the Government of Uganda. The mandate of the Corporation as defined in the National Water & Sewerage Corporation Act, Section 5 (1), is to operate and provide water and sewerage services in areas entrusted to it, on a sound, commercial and viable basis. NWSC in achieving this mandate is now fully operating in 22 main towns in Uganda including ; Tororo, Mbale, Masaka, Mbarara, Gulu, Lira, Fort Portal, Kasese, Kabale, Soroti, Bushenyi/Ishaka, Arua, Mubende, Masindi, Hoima, Lugazi, Iganga, Malaba and Mukono. These represent the larger Urban Centres within Uganda and NWSC is now serving about 300,000 customers in Uganda. Visit www.nwsc.so.ug