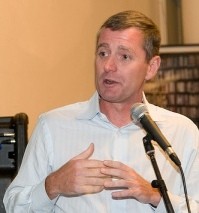 "If every charity was run with more of a business focus, the world would be a better place," says John Wood, a former senior executive at Microsoft before founding Room to Read in 2000. "We've created what I consider to be a hybrid organization — the best of charity merged with the best of business."
The organization's goal is to raise $30 million in 2010. In 2009, Room to Read raised $28.3 million in cash and stock — well above its $23 million goal and a 28% increase over its 2008 contributions.
Technology is key for the company to achieve its goals. The Salesforce.com Foundation has donated Salesforce CRM licenses to help Room to Read build their Global Solutions Database (GSD), a tracking system for the nonprofit's projects in Bangladesh, Cambodia, India, Laos, Nepal, South Africa, Sri Lanka, Vietnam and Zambia. The GSD keeps tabs on Room to Read's implementation timeline, the number of students and teachers being supported, and the percentage of community contribution. This technology helps the company report figures to its donors.
"Technology has been an invaluable tool that's allowed us to reach out to our current investors as well as introduce ourselves to new supporters," explains Wood. "Twitter has opened the door to an entirely new base of supporters for us — now almost 430,000 strong — and we like being able to reach out to them on a real-time basis about our latest news or stories they may find interesting." Room to Read was Twitter's first corporate social innovation sponsor.
Room to Read recently announced involvement with the "Conspiracy for Good" initiative, described as a "new tech-inspired social benefit entertainment experience created by Nokia and Heroes creator Tim Kring." Through this project, Room to Read and Nokia will build five libraries in Zambia, while also funding the education of 50 Zambian girls.
The not-for-profit also aims to implant effective education programs in the developing world through its School Room program, along with improving literacy equality among the genders. Two-thirds of all illiterate adults are female. Already, over 9,000 female students are enjoying scholarships thanks to the Girls' Education program.
Woods, who will speak on a panel about tech giving at the upcoming Brainstorm Tech conference, says Room to Read's importance has only grown in light of the world's struggling economy: "If there has been an upside to the financial crisis, it's that people are being more careful than ever before about how they invest, and this applies also to their charitable investments," he explains. "I think the markets are efficient, in the sense that a lot of business leaders see in Room to Read an organization that is run like a business and they therefore continue to invest in us."