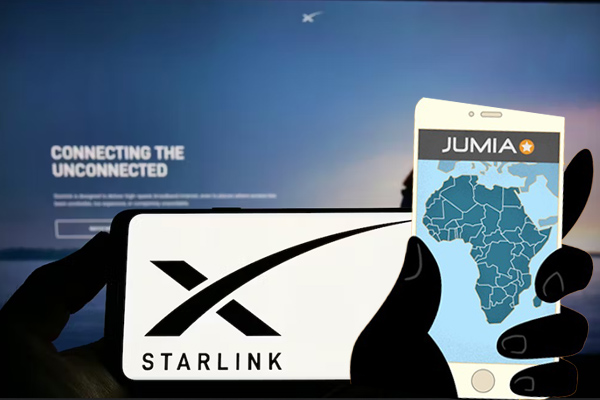 The recent partnership between Jumia, Africa's leading e-commerce platform, and Starlink, a satellite internet service by SpaceX, has cast a spotlight on a critical challenge and opportunity in Africa—the digital divide.
This alliance, which aims to retail Starlink's Residential Kits via Jumia's platform, starting in Nigeria, and eventually expanding across the continent, is poised to be a catalyst for digital transformation in regions traditionally marginalized from the global digital economy.
The synergy between Jumia and Starlink is emblematic of what Africa needs to accelerate its digital inclusion.
Unlike previous attempts by tech giants like Google and Facebook, which relied on high-altitude connectivity solutions that were eventually shelved, Starlink's low-Earth orbit satellites present a more promising and pragmatic approach to delivering high-speed, low-latency internet across the vast and diverse landscapes of Africa.
This alliance is not merely about selling satellite kits; it's about establishing a robust digital infrastructure that can withstand the logistical and geographical complexities of the African continent.
The lack of reliable internet has long stifled economic growth, education, and basic communication in many parts of Africa. However, the Jumia-Starlink collaboration could redefine the narrative.
By leveraging Jumia's extensive reach and Starlink's innovative technology, millions of individuals and communities stand to gain access to a wealth of online resources, e-learning platforms, and e-commerce opportunities that were previously out of reach.
Furthermore, this partnership exemplifies a model of cross-sector collaboration that is essential for tackling Africa's digital disparity. It's a testament to how private sector alliances can complement the efforts of telecom operators who have hitherto shouldered the burden of broadband provision in Africa.
This model, if replicated, could spawn a new era of digital empowerment, stimulating entrepreneurship, innovation, and economic growth across the continent.
However, the partnership is not without its challenges. The upfront cost of a standard Starlink terminal, priced at US$557 in Nigeria, could be a roadblock for many potential users. Yet, the benefits of expanded internet access, coupled with Jumia's expertise in navigating the African retail and merchandise landscape, are likely to outweigh the initial hurdles.
In conclusion, the Jumia-Starlink partnership is a bold step towards dismantling the digital barriers that have hindered Africa's full participation in the digital age.
It underscores the potential of private sector collaborations in bridging the digital divide and sets a precedent for how innovative, globally-minded alliances can foster digital inclusivity, not just in Africa, but in other underserved regions of the world.