Challenge
Entrepreneurs
Innovation
News
Opportunities
Startups
Farm Central Intelligence Emerges Overall Winner of AFEX Code Cash Crop Ag-hackathon
"We are proud to present our incredible mix of Nigerian and Kenyan winners as judged by our stellar panel," Akinyinka Akintunde, President of AFEX Nigeria.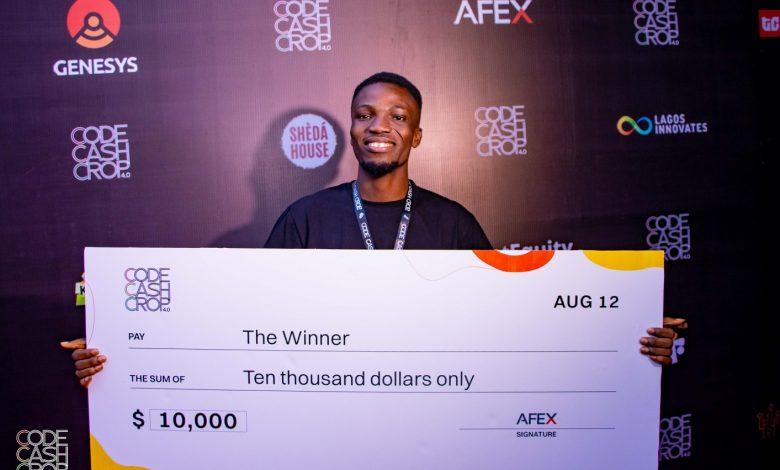 AFEX over the weekend announced winners of its annual ag-hackathon, Code Cash Crop 4.0 after a 2-day intensive boot camp. Out of the six (6) finalists hailing from Kenya and Nigeria pitched their solutions at the grand finale to judges comprising of Jude Dike, Co-Founder of GetEquity; Hakeem Onasanya, Head of Startups at The Lagos State Employment Trust Fund; Nixon Gecheo, Senior Program Officer of AGRA, and Funto Olasemo, VP Financial Markets at AFEX — only three were named as winners.
Code Cash Crop 4.0 is aimed at harnessing the intersection of technology, finance, and agriculture to create a platform for young tech enthusiasts to create viable solutions. This year's edition drew participation from Kenya, for the first time, following AFEX's operational expansion into the country last year.
Yakubu Temitope emerged as the overall winner, receiving the USD$10,000 (approx. UGX37.1M, KSH1.5M, NGN7.6M) grand prize for his solution, Farm Central Intelligence, an extensive database of agricultural information that can be accessed via a mobile app, WhatsApp chatbot, or a USSD platform.
Commenting on his win, Yakubu told PC Tech Magazine, "Winning Code Cash Crop Ag-hackathon is a life-changing opportunity for me as an entrepreneur, and I would like to say 'thank you' to AFEX and its partners for the initiative." Adding "I am also grateful for the constructive feedback I received during the boot camp to improve my solution. I look forward to using this competition's prize money and networking opportunities to scale up my business and actualize my dreams."
Designed to be user-friendly and accessible to farmers with low-end mobile phones, Farm Central Intelligence seeks to use USSD to provide farmers with access to information about agricultural products and buyers, offering a variety of features, including multilingual support, personalized capacity building, real-time agronomy support, and collaboration with input sellers and students.
Kenyan startups MCHE and Silo Africa emerged in second and third places respectively — receiving USD$5,000 (approx. UGX18.5M, KSH719,250, NGN3.8M) and USD$3,000 (approx. UGX11.1M, KSH431,550, NGN2.3M).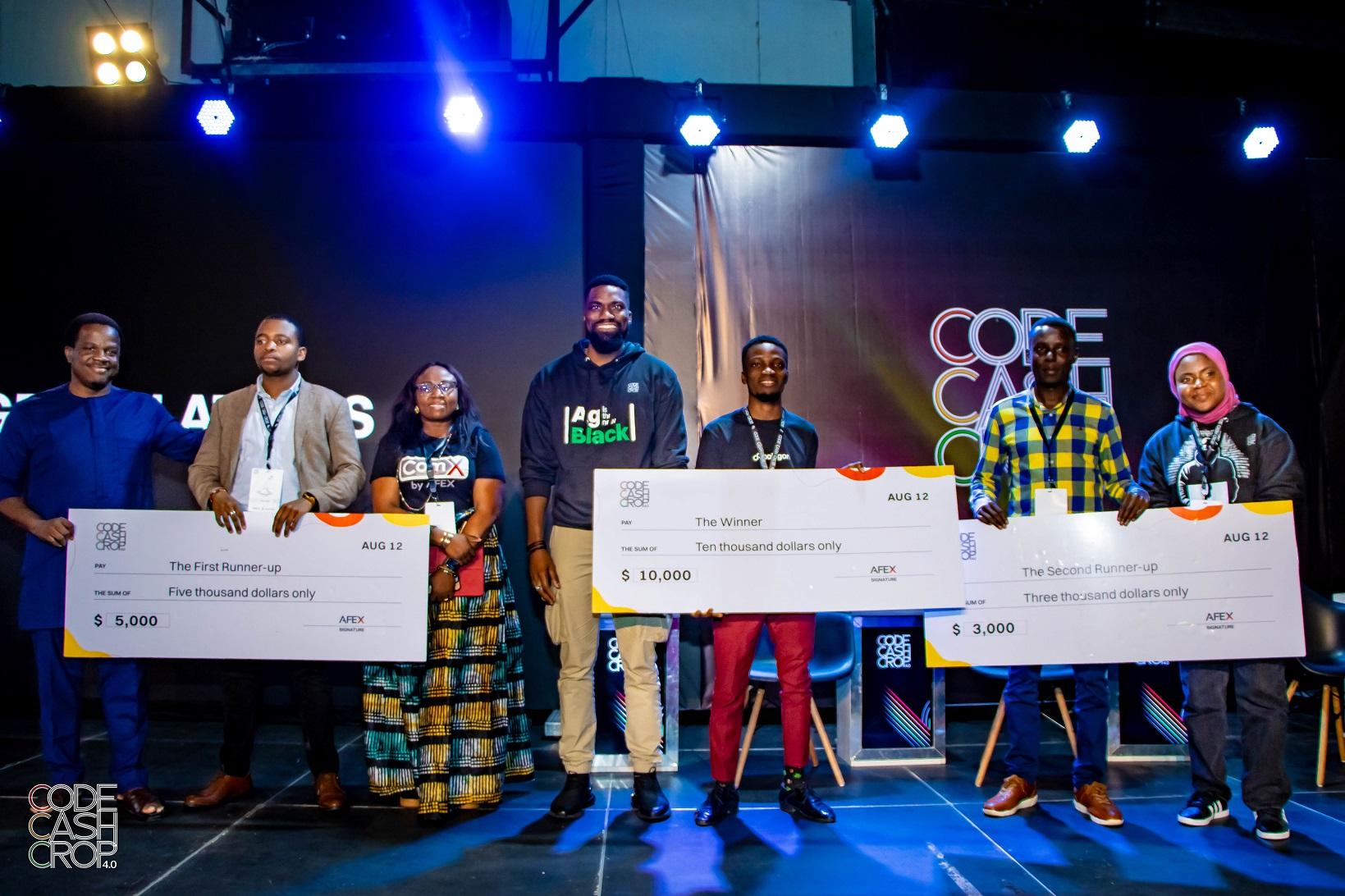 President of AFEX Nigeria, Akinyinka Akintunde, speaking at the finals said the Code Cash Crop Ag-hackathon remains dogged in their mission to provide a platform for young talents to create custom-fit models for the everyday and emerging Agricultural market realities.
"AFEX will continue to organize Code Cash Crop Ag-hackathon to empower more young people to think innovatively about agriculture and deploy financial and mentorship resources to encourage them to transform Africa's food systems through technological innovations," remarked Akintunde. "This year, we've had the pleasure of reviewing thoughtful applications and engaging with extraordinarily bright minds. We are therefore proud to present our incredible mix of Nigerian and Kenyan winners as judged by our stellar panel."
Themed 'Scaling Market-led Solutions,' this year's Ag-hackathon received over 100 applications over a 3-month period and pulled together the most daring and innovative solutions that addressed gaps across data, logistics, and extension services for Africa's agriculture value chain. These were narrowed down to the 25 best, for which boot camps were held across three African cities to select the finalists, who later converged in Lagos for the final boot camp and live-pitch sessions with judges. The criteria for selecting winners throughout the challenge were four main parameters: viability, profitability, scalability, and feasibility of each solution.
In his keynote address, Ife Adebayo, Digital Innovation Specialist at iDICE, spoke on youth-led innovations as an important part of the conversation of Scaling Market-Led Solutions.
"The essence of youth-led innovation lies in its ability to disrupt complacency. It thrives on pushing boundaries, dismantling the walls of convention, and carving new pathways where none existed before," he explained. "It reminds us that innovation is not solely for established experts; it is a playground where anyone with a spark of inspiration can make their mark. And through their unwavering spirit, youth-led innovation has the power to bridge gaps, connect communities, and uplift societies."
Code Cash Crop is an exciting industry event that harnesses innovation across the agriculture, finance, and technology sectors to solve problems related to Africa's food systems. Through the annual challenge, AFEX empowers young tech talents and entrepreneurs in Nigeria and Kenya with the necessary resources to build profitable agric business models, thereby fulfilling its commitment to investing in the future of Africa.