MTN
News
Opportunities
Trainings
MTN and Partners Announce 20 Enterprises Selected For The 2nd Phase of The MTN Ace Program
MTN ACE-Tech known as the MTN Ace-Tech-Incubation program is aimed at equipping enterprises with the skills needed to successfully spur the growth of their businesses.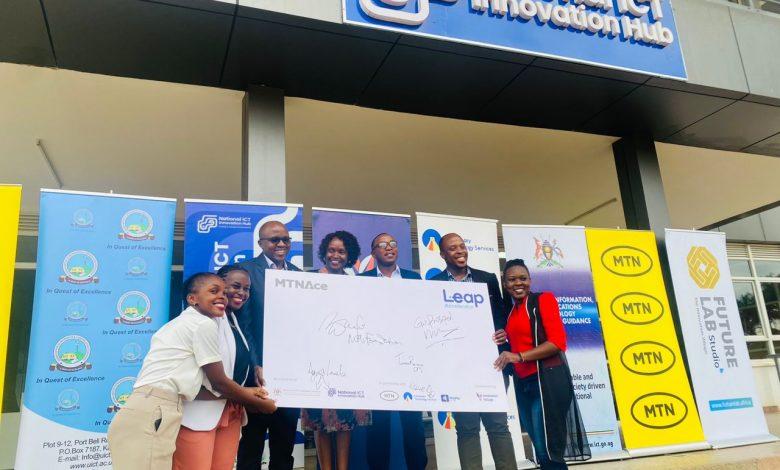 MTN Uganda has unveiled the second phase of MTN ACE-Tech known as the MTN Ace-Tech-Incubation program aimed at equipping enterprises with the skills needed to successfully spur the growth of their businesses.
This follows the conclusion of MTN Ace-Tech's first phase last month which involved training 130 individuals in software development.
In the second phase, MTN Uganda Foundation and its partners Centenary Technology Services, the Ministry of ICT & National Guidance, and The Innovation Village selected 20 enterprises that cut across various sectors including digital financial services, agriculture, and transport — to participate in the inaugural MTN Ace Tech program's incubation phase at the National ICT Innovation Hub in Nakawa in Kampala.
Bryan Mbasa, the Senior Manager at MTN Foundation said the 20 enterprises were selected from a pool of 40 that submitted their applications this year and therefore they will undergo a 13-week training in commercializing their business ideas and managing growth.
"Throughout this journey, the participants will attend all the master classes, workshops, webinars, networking events, and so on, and access tools and high-quality coaches and mentors to support in applying the concepts and insights gained, from the various program sessions towards refining the enterprises," Mbasa told the press.
Mbasa said enterprises that will emerge best in the incubation will have an opportunity to meet a wide range of prospective local and international investors for an opportunity to raise an early-stage financing round to spur their growth.
"We, at MTN Uganda, believe in the power of entrepreneurship to create a positive social and economic impact in our communities, and throughout this incubation," he said. "We're proud to support entrepreneurs and enterprises to unlock their potential and create opportunities for growth and development."
Uganda is ranked as one of the most enterprising countries in the world with high percentages of new business each year, according to Global Entrepreneurship Monitor (GEM). However, the business failure rate remains also high due to inadequate skills and proper product positioning.
This also coincides with the government's National Development Plan (NDPIII) which recognizes the potential of ICT to drive economic growth, innovation, and job creation.
Rowena Turinawe, the Head of Innovation and Digital Services at Centenary Technology Services (Cente Tech), said they are glad to be part of the MTN Ace Tech incubator because it aligns directly with Cente Tech's mission of providing holistic technology solutions and delivering innovation that matters to enable and inspire entrepreneurial growth.
"This initiative will provide pathways for highly skilled innovators to create sustainable and scalable solutions that support service delivery, create employment opportunities, and improve the use of ICT innovation and technology development in the country and this fits perfectly into our agenda," Turinawe said. "We want to see the youth rise to their potential, equip them with technical skills, open opportunities for them to gain employment, and spur innovation as well as entrepreneurship in Uganda."
Arthur Mukembo, the Future Lab Studio Lead at Innovation Village said the new partnership, the Innovation Village will support innovators to build and scale solutions by creating pathways that give these enterprises opportunities to build better enterprises.
"This innovative will also enable enterprises to access market opportunities, and unlock relevant funding to sustain their growth as they work to improve the lives and livelihoods of Ugandans as they scale into Africa and beyond," he said.
Meanwhile, Agnes Lumala, the academic registrar at the Uganda Institute of Information Communications and Technology (UICT), which hosts the National ICT Innovation Hub, said the government's partnership with the private sector is now crucial to driving new technologies.
"Whereas pushing the digitalization agenda is crucial for the government to attain economic recovery, we cannot achieve it without the support of the private sector," said Lumala — acknowledging the contributions of MTN Foundation, Centenary Technology Services, and the Innovation Village towards the digital agenda.
MTN Ace Tech is one of the three MTN ACE programs launched in December last year and implemented in partnership with the Ministry of ICT and National Guidance, The National ICT Innovation Hub, Centenary Technology Services, Refactory, MUBS Entrepreneurship Innovation, and Incubation Centre, Engage Consults and MTN's Fintech subsidiary, MTN MoMo Uganda Limited to empower the youths.
The MTN Ace Tech focuses on up-skilling the youth interested in tech-related innovations.
20 selected enterprises
Kacyber Technologies: KaCyber's multi-model e-ticketing and payment platform provides a secure and efficient ticketing and payment solution for the public transport sector in Africa.
Quest Lyft Ltd: QuestLyft leapfrogs capital-intensive infrastructural challenges encountered in delivering quality education by leveraging the internet to deliver curriculum-aware digital learning content.
Microfuse Computer Technologies- Hardware: The Microfuse stick computer is a low-cost, portable plug-and-play pocket computer that transforms every TV screen into a fully functional industry-grade computing user-friendly system. It's a magic stick
Rent Beta: Provides financial services in the housing sector through a platform that makes it easy to pay and manage your rent.
Ride Link Limited: It enables users to be able to get quick Logistics quotes that are matched
Alipata Limited: Alipata provides a unified digital commerce marketplace to facilitate trade among Africa's informal merchants and leading consumer brands.
Springtime Technologies Limited: Springpesa platform provides electronic payment solutions and wallets to individuals, businesses, and ecommerce platforms so as to promote efficiency in daily financial transaction processing.
Kiso Fresh: Fruit & Veg on-demand service.
Nutra Vest Limited: Agtech Solutions connects farmers to customers and logistic services that create efficiency in the value chain.
Wal-e- Visual: Wal-e-Visual recognizes that digitalization and emerging technologies such as Virtual Reality (VR) and Augmented Reality (AR) can play a significant role in making education more accessible and affordable
Waape-A digital talent management workplace.
Kwetu Auctions and Reality-A robust timed online auctioning platform providing a virtual reality experience in auctioning
Ablestate Creatives Limited-ICT Services platform that develops talents in software developers and connects developers to gigs & employers
Kungula (D&J Global Solutions)- Kungula is a software application providing a platform for information sharing between Agro-Stakeholders in Uganda
Coin Pay-Financial Services for Students & Parents to conduct cashless transactions
Autofore-Autofore is developing a platform to help car owners access affordable quality car maintenance services.
MTN Ace Graduate- Nasasira Nebert-Financial Services product with a focus on a machine to machine
MTN Ace Graduate- Lucky Ninsiima-Dairy farm management platform
MTN Ace Graduate- Ronald Ainebyoona– Worked on service product development of Voice Bundles API with MTN Momo
MTN Ace Graduate- Maclean Nankumbi-Worked on a cloud computing software to enhance communication to target customers