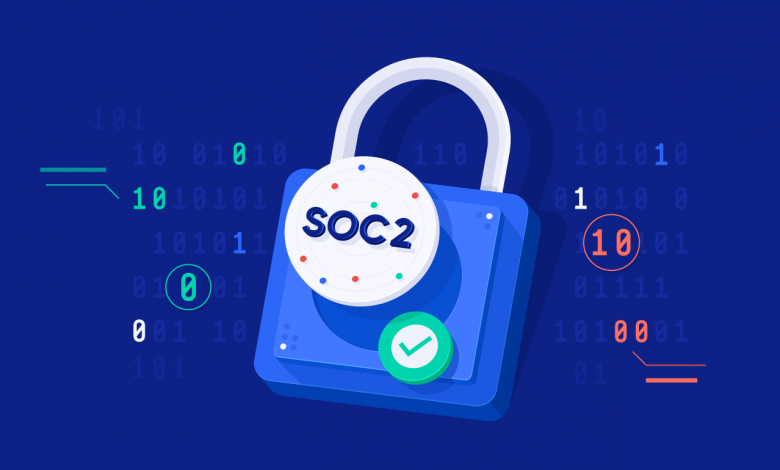 Information security is a challenge for all businesses, even those that outsource their core business processes to third-party vendors. (e.g., SaaS, cloud-computing providers). And for a good reason, considering that mishandling data, particularly on the part of applications and network security providers, increases the chances of cyberattacks such as data theft, extortion, and malware installations.
With an estimated $4.54 million in damages per ransomware assault in 2022, it's clear that stopping these intrusions is crucial.
The Service Organization Control Type 2 (SOC 2) is a cybersecurity compliance framework designed to guarantee that your company is in compliance with regulations concerning safeguarding your business and your customers' personal information.
What Is SOC 2?
The American Institute of Certified Public Accountants (AICPA) created SOC 2 to provide standards for the management of client information based on five trust service principles: security, availability, processing integrity, confidentiality, and privacy.
Every SOC 2 report is tailored to each individual company, unlike the stringent PCI DSS standards. Each organization tailors its controls to meet the requirements of a subset of the trust principles, in keeping with its own procedures.
You, as well as regulators, business partners, suppliers, etc., can benefit from the insights that are included in these internal reports.
When is a SOC 2 Audit Necessary?
Regulatory supervision, internal risk management practices, and good company governance all benefit from a SOC 2 audit as it ensures the safety of clients' data.
A SOC 2 audit is available upon request from any organization desiring further insight and confidence about the service provider's internal controls. Companies that provide services like data hosting, colocation, data processing, cloud storage, and Software-as-a-Service (SaaS) are the most common candidates for a SOC 2 audit.
SOC 2 Certification
SOC 2 certification is granted by independent auditors. They evaluate a supplier's methods and procedures to determine how well they adhere to one or more of the five trust standards.
Below, you can find a breakdown of the trust principles:
Security
The security concept is all about making sure no one can get their hands on sensitive data or software. Data loss, software misuse, and incorrect disclosure or modification are only some of the possible security issues that may be avoided by implementing access restrictions.
Protection against security breaches that might lead to unwanted access to systems and data is possible with the use of IT security solutions including network and web application firewalls (WAFs), two-factor authentication, and intrusion detection.
Availability
Availability is the guarantee that a product, service, or system will be readily available when needed, as specified in a service level agreement (SLA) or any other agreement. Therefore, all parties agree upon a minimum required level of performance for the system's availability.
The availability of the system is not directly addressed by this concept, although it does entail security-related requirements. Important metrics to monitor include network uptime and performance, backup sites, and how quickly and effectively security incidents are dealt with.
Processing integrity
Whether or not a system accomplishes its goal is what the processing integrity principle is concerned with. The same applies to the validity, accuracy, timeliness, and authority of the data processing being conducted.
While data integrity is implied by processing integrity, it is not required. In most cases, it is not the processing entity's obligation to find problems in the data before it is entered into the system. Data processing monitoring, in conjunction with quality assurance methods, can help to assure processing integrity.
Confidentiality
Confidential information is data that can only be seen or shared by a limited group of people or entities. Business strategies, intellectual property, internal pricing lists, and other forms of confidential financial data are just a few examples of the sorts of information that can be restricted to corporate employees.
A crucial measure in maintaining privacy during transmission is the use of encryption. Network and application firewalls, in conjunction with strict access restrictions, can be used to protect data processed or stored on computer systems.
Privacy
The system's collection, use, retention, disclosure, and destruction of personal information must comply with an organization's privacy notice and the AICPA's generally recognized privacy standards.
PII (Personally Identifiable Information), describes data that can be used to identify a specific person. Sensitive personal information includes details about individuals' health, race, sexual orientation, and religious views. All personally identifiable information has to be secured using appropriate measures.
In the end, you and your company will both benefit from SOC 2 compliance. The IT security you receive will meet or exceed a wide range of industry-based standards, while also catching potential problems before they happen. If you want to reduce the threat of being targeted by hackers, SOC 2 compliance is a sensible way to go about it.