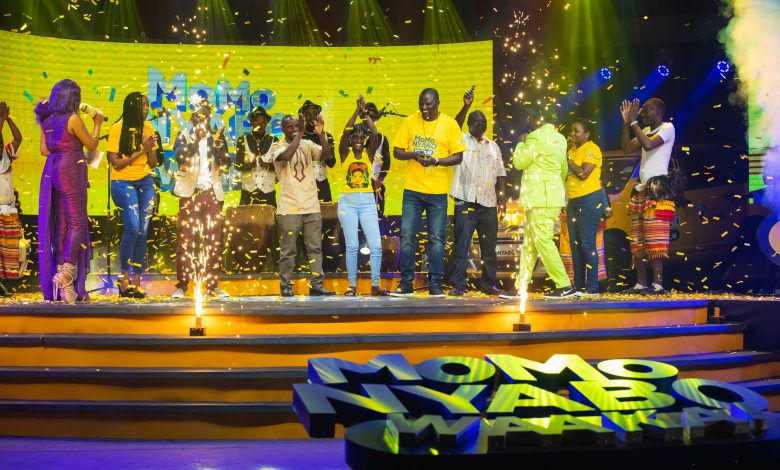 MTN MoMo Uganda Limited's highly rewarding promotion, MoMo Nyabo Waaka came to an exciting end on Thursday 14th, July 2022 with the winners of the last batch of the three Toyota Succeed cars picking them up from the studio amidst cheer and pomp from their loved ones and well-wishers.
The fourth edition of the promotion rewarded active MTN MoMo customers with 24 brand new Toyota Succeed cars and over UGX2 billion given to MTN MoMo Customers and agents. Breaking the UGX2 billion down, UGX1.6 billion was given out to 16,000 active MTN MoMo Customers and UGX540 million to 5,400 agents
Speaking at the grand finale of the MoMo Nyabo Waaka promotion, Richard Yego, the Managing Director of MTN Mobile Money Services Uganda Ltd, said that the winners' lives have been greatly impacted. He added that the promotion's aim was to give back to MTN MoMo customers and agents, in form of cash, smartphones, and brand-new cars.
Yeo gave a testimonial of one of the winners, Wasswa Muzamiru from Nansana who had lost his job as a special-taxi driver. "Our first winner Wasswa Muzamiru from Nansana, lost his job of being a special-taxi driver. With the new Toyota Succeed that he won from the MoMo Nyabo Waaka promotion, he can now earn a living driving his own car."
Before handing over the last three cars, Yego congratulated all the MoMo Nyabo winners and urged them to continue using the service while vigilantly protecting themselves against fraudsters.
The last three winners of the promotion; John Barongo, Rasto Butiga, and Geoffrey Mugabi were invited to the grand finale receiving their cars live from the studio showing on NBS and Bukedde TV.
Jacqueline Ayebare, a resident of Namugongo, who was using an MTN number registered in her husband, John Barongo's name, with moist eyes said she has been actively sending and receiving money using her MTN Momo account without knowing that this exercise would reward her with a car. She thanked her husband for buying her the MTN Simcard in his name. Now the family has its own family car, courtesy of MTN MoMo Nyabo.
40-year-old Butiga, from Gayaza, said this car had come as a miracle and it is to be of great use in fetching money to his pockets.
"I got a call telling me that I had won a car but I grilled the callers to the dot, thinking they were conmen. It was after realizing the familiar voice of Zahara Toto and Richard Tuwangye who assured me that the car is real and belonged to me that I agreed. Now here I am," said an excited Butiga.
In a sideline interview, Mugabi, the third winner and a resident of Entebbe-Kitooro, greatly praised MTN for blessing his family with a new car. He urged Ugandans to stick with MTN applauding the telco for having a clear network coverage with people deep in rural areas being able to access mobile money services.
All the winners' deposited at least UGX20,000 on their MTN MoMo wallet and were automatically entered into the draw, thus winning cars, cash, and smartphones, among other prizes.
Below is the list of the 24 MTN MoMo Nyabo Waaka car winners for the 8 weeks of the promotion;
| | | | |
| --- | --- | --- | --- |
| Winner's name | Occupation | Residence | Region |
| Twinamatsiko Geoffrey | Retired | Masaka | Greater Central |
| Kawagga Robert | Special Driver | Nansana | Kampala |
| Naluwooza Agnes | Cook | Namagunga | Greater Central |
| Kisitu Brasio | Driver | Bombo | Greater Central |
| Odongo Charles | Special Driver | Lira | North |
| Tenywa Rogers | Driver | Mbale | East |
| Ddungu Mary | Mid Wife | Masaka | Greater Central |
| Kansiime Clophous | Business Woman | Mbarara | South West |
| Kabagabu Pamella | Researcher | Kawempe | Kampala |
| Musabi Grace | Unemployed | Makindye | Kampala |
| Twesige Christopher | Shop Owner | Hoima | West |
| Oroma Joshua | Boda Boda Rider | Nebbi | North |
| Okuonzi Joseph | Police Man | Jinja | East |
| Okello Richard Anthony | Police Man | Kampala | Kampala |
| Iroka Enekemia | Business Man | Soroti | East |
| Asiimwe Moses | Army Officer | Kyengera | Greater Central |
| Iyamuremye Gabriel | Pastoralist | Gomba | Greater Central |
| Magezi Charles | Mechanic | Fort Portal | West |
| Aturinda Dorothy | Student | Kabale | South West |
| Asiimwe Benedict | Health Worker | Mbarara | South West |
| Lakot Milly | Business Woman | Gulu | North |
| Rasto Butiga | Unemployed | Gayaza | Kampala |
| Mugabi Geofrey | Carpenter | Entebbe | Greater Central |
| Barongo John | Business Man | Namugongo | Central |
MTN MoMo Nyabo campaign dates back to 2018 (the first-ever). Thousands of lives have been transformed by the prizes they have won over the years.