Apps & Software
Banking and Payments
News
Centenary Bank Adds New Feature, 'Cente on the Go' to its CenteMobile App
Centenary Bank unveiled the 'Cente on the Go' feature on the centemobile app to enable new and already existing customers to open up any bank account without the need to visit any bank branch.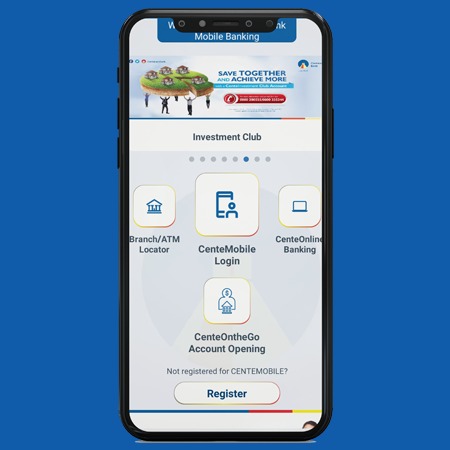 Centenary Bank stepped into the mobile banking arena and it brought a stellar mobile banking app with it; Cente mobile App. In 2018, Centenary Bank bagged three accolades at the top Digital Impact Awards Africa (DIAA) for its innovative digital products. It, therefore, comes as no surprise with the recently unveiled Cente On the Go feature on the centemobile app. This new feature will enable new and already existing customers to open up any bank account without the need to visit any bank branch.
Paperwork is becoming a thing of the past as the new trend is now digital.   Truly designed for the digital age, the Cente Mobile App in general offers good user experiences, and its features are easy on the fingers as navigation is not a problem.
The steps are pretty simple; Download the CenteMobile App from playstore or the  Apple Store and click on "CenteOnTheGo account opening, select your preferred account type from the available list e.g. CenteDiaspora, CentePlus CenteSavings, etc. Once that has been identified,  choose your preferred branch then capture the details below in the digital form provided.  A picture of the front side of your National ID is a requirement together with, a selfie with both ears visible. , Having successfully done the steps mentioned, you will be required to write down your signature and take a clear photo of it thereafter complete the form by providing details as required for your preferred account. Click submit and an email or SMS with a One Time Password (OTP) will be sent, input the OTP to confirm authorization and submit your details.
Your account will be activated within 48 hours and the details will be sent via SMS or email. This can also be done if you live outside of Uganda.
Mobile banking apps have come a long way. Once upon a time, features like account deposits or opening new accounts were considered cutting edge. Now, users have come to expect that kind of functionality, along with seamless money transfers, bill payments, withdrawals, and many more.
Aside from opening new bank accounts, making deposits and withdrawals, the App lets you track your bank transactions and consequently build into your money management lifestyle. Better still, your mobile device is turned into a digital wallet with easy access to any financial service you require from Centenary bank. Who wouldn't want that in this day and age?!
In 2021, "how safe is my data?" is such a common question. The Cente On The Go feature is 100% safe. So much so that you can access your account quickly using biometrics/fingerprint technology which is one of the safest log-in alternatives.
Centenary Bank stands as one of the leading institutions in the world of online banks in Uganda. That is why it focuses on offering the best mobile banking experience it can.
"CenteOn the Go means the Bank is taking more services online and has designed this to increase convenience for potential customers who wish to sign up and enjoy our wide range of affordable financial services. This platform will enable the customer to have access to all of Centenary Bank's digital channels making their banking experience more enjoyable." Fabian Kasi, the bank's Managing Director said during the launch of this feature in August.
Are seamless mobile Apps a deciding factor for you in choosing a bank? Well, look no further than the CenteMobile App. It's more than just a pretty-looking App, it will make your mobile financial life easier. Cente Mobile App is available for both Android and iOS users. Download the app and enjoy a wide range of online banking services.