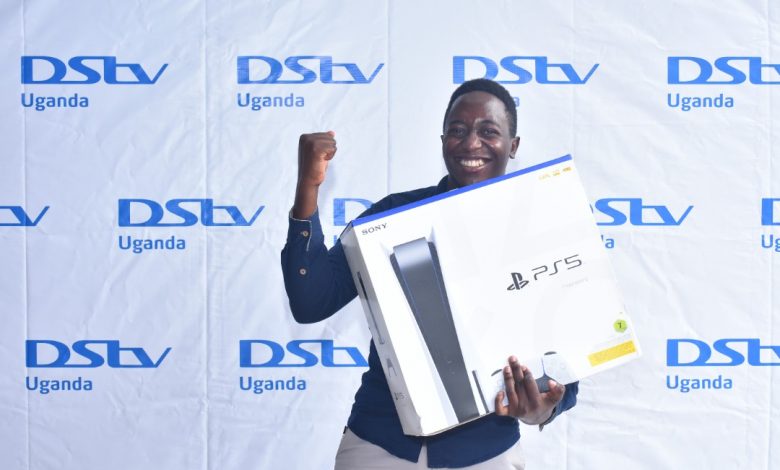 Pay-TV service provided, DStv Uganda handed over a brand new PlayStation 5 (PS5) to Edward Kategaya, an electrical engineer with Bujjagali Energy Limited, who gathered a total of 2,556 Fantasy Premier League (FPL) points from last season's DStv fantasy football league competition. This comes at the time a new season of the Premier League is set to kick off today as Brentford faces Arsenal.
While handing over the gaming console to Kategaya, Mr. Colins Asiimwe, Head of Marketing at MultiChoice Uganda congratulated Kategaya, and encouraged DStv customers to stay tuned for offers of a similar nature. "We definitely have exciting offers and goodies in store for our customers," he said.
When asked about his strategy that helped him win the DStv Uganda FPL, Kategaya said, "It is vital to follow up on the players' form. It is better to have many good players than just one good player that is expensive."
The PlayStation 5 (PS5) is a home video game console developed by Sony Interactive Entertainment. It was announced in 2019 as the successor to the PlayStation 4 (PS4), and was released on November 12th, 2020, starting in Australia, Japan, New Zealand, North America, and South Korea, with a worldwide release following a week later.
The console's main hardware features include a solid-state drive customized for high-speed data streaming to enable significant improvements in storage performance, an AMD GPU capable of 4K resolution display at up to 120 frames per second, hardware-accelerated ray tracing for realistic lighting and reflections, and the Tempest Engine allowing for hardware-accelerated 3D audio effects. Other features include the DualSense controller with haptic feedback and backward compatibility with most PS4 and PlayStation VR games.
According to Sony, the console is roughly 39cm (15.4 inches) tall, 26cm (10.2 inches) deep, and 10.4cm (4.1 inches) wide.
The price of a PS5 is expensive, but we were certainly bracing for it being even more expensive until Sony finally confirmed it. The PS5 price is USD$499.99 (roughly UGX1.8 million). If you can live without a disc drive and are happy to only have access to digital games then you might want to consider the PS5 Digital Edition price of USD$399.99 (roughly UGX1.5 million). To get one shipped to you in Uganda, it would cost you roughly UGX3.8 million to UGX4.6 million depending on your dealer, shipping costs, and taxes.
The specifications of the console;
Component
Specification
CPU
x86-64-AMD Ryzen Zen 8 Cores / 16 Threads at 3.5GHz (variable frequency)
GPU
Ray Tracing Acceleration
Up to 2.23 GHz (10.3 TFLOPS)
GPU Architecture
AMD Radeon RDNA 2-based graphics engine
Memory/Interface
16GB GDDR6/256-bit
Memory Bandwidth
448GB/s
Internal Storage
Custom 825GB SSD
IO Throughput
5.5GB/s (Raw), Typical 8-9GB/s (Compressed)
Expandable Storage
NVMe SSD Slot
External Storage
USB HDD Support
Optical Drive (optional)
Ultra HD Blu-ray (66G/100G) ~10xCAV
BD-ROM (25G/50G) ~8xCAV
BD-R/RE (25G/50G) ~8x CAV
DVD ~3.2xCLV
PS5 Game Disc
Ultra HD Blu-ray, up to 100GB/disc
Audio
"Tempest" 3D AudioTech
Video Out
HDMI Out port
Support of 4K 120Hz TVs, VRR (specified by HDMI ver 2.1)
Dimensions
PS5 – 390mm x 104mm x 260mm (width x height x depth)
PS5 Digital Edition – 390mm x 92mm x 260mm (width x height x depth)
Weight
PS5 – 4.5kg
PS5 Digital Edition – 3.9kg
Power
PS5 – 350W
PS5 Digital Edition – 340W
Input / Output
USB Type-A port (Hi-Speed USB)
USB Type-A port (Super Speed USB 10Gbps) x2
USB Type-C port (Super Speed USB 10Gbps)
Networking
Ethernet (10BASE-T, 100BASE-TX, 1000BASE-T)
IEEE 802.11 a/b/g/n/ac/ax
Bluetooth 5.1