As an encouragement to boast ICT in Uganda, the National Information Technology Authority Uganda (NITA-U) with the support of Uganda Investment Authority (UIA) on July 4th, 2019 entered a memorandum of understanding with SIMI technologies to promote local electronics manufacturing and assembling in Uganda.
The collaboration sought to promote and achieve; the manufacture of own electronics such as computers & mobile phones, create job opportunities for the locals, and equip/supply business, institutions such as; schools, government MDAs with locally made products other than procuring them from other countries.
Now, the company (SIMI Technologies) is delivering. On Tuesday this week, Hon. Judith Nabakooba and Hon. Peter Ogwang visited the factory located in Jinja at the Namave Industrial Park and highly commended the company for creating employment for the locals. According to NITA-U, SIMI currently employs 300 Ugandans and have a vision of creating more job opportunities for Ugandans.
Nabakooba commended SIMI for their investment and urged them to lower the cost of smartphones to allow ordinary people afford them. She further thanked President Museveni for having a vision to create jobs for Ugandans.
The factory is believed to make and assemble over 2,500 phones in a day. In May this year, Uganda exported 18,000 mobile phones including feature and smartphones to Morocco – made from the SIMI factory. This became the first ever international order for Ugandan made mobile phones and in intervals of three to four weeks more consignments will continue to be exported to the same country.
The State Minister of Finance for Investment, Hon. Evelyn Anite flagged off the export pointing out that the government is taking great strides in tackling the import-export imbalance.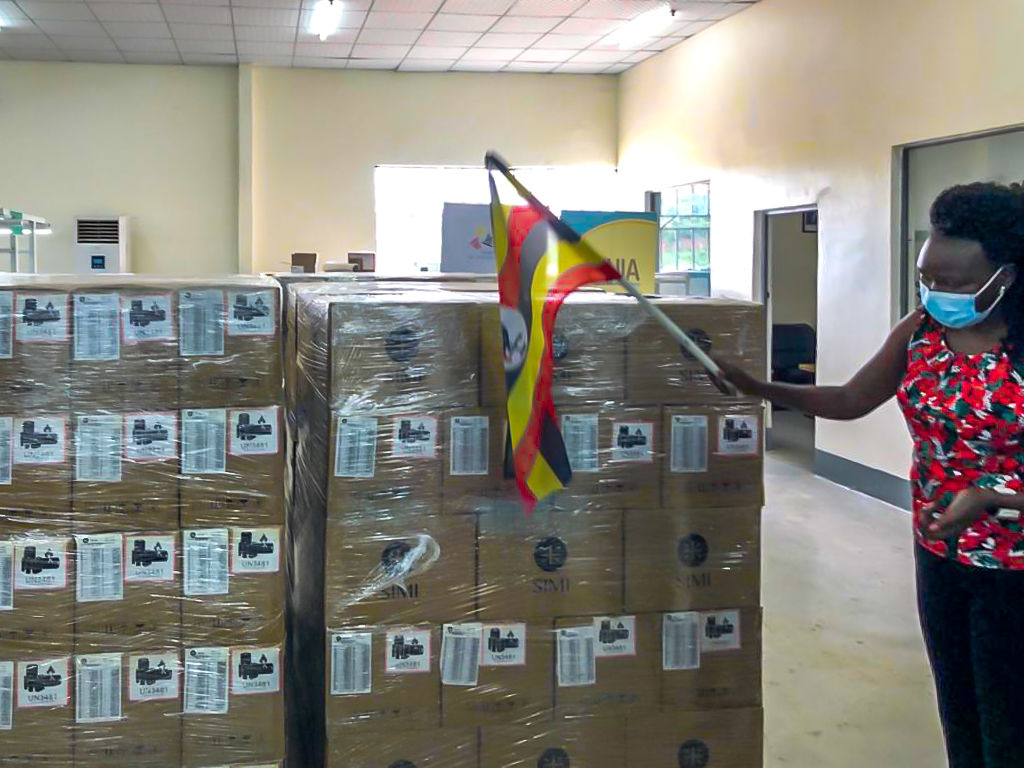 With this milestone, it is evidence of the government's pledge to promote local skills, industry, exports in a bid to improve employment levels, livelihoods and the countries balance of payments through ICT manufacturing.
SIMI plans to increase on its production and will export finished products to countries like Morocco, Hungary, and Europe.
The company has also announced plans to make phones with inbuilt solar charging battery and temperature testing. Solar battery charging phones come in handy in areas where people are not connected to the power grid or power is unreliable.