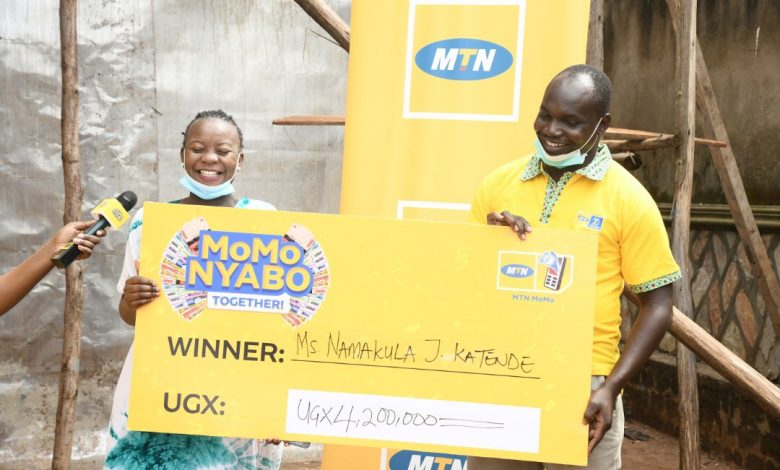 Telecommunication operator, MTN Uganda is awarding its winners and beneficiaries of its on-running annual promo; MoMoNyabo. Winners are awarded for having used MTN mobile money to carry out transactions while the beneficiaries get a share of winners prize for having answered 5 questions correctly.
The promo runs under the theme "MoMoNyabo Together", with focus to help MTN customers with the much-needed support following the negative effects of the COVID-19 pandemic on the well-being of many Ugandans. The telco is giving most urgent needs such as domestic welfare, rebuilding small businesses unlike previous editions where cars, motorbikes, and other prizes were given away.
Over twenty have been awarded and the telco is still rewarding till the put aside UGX1.2 billion has been given away to lucky MTN customers and MTN Mobile Money Agents and/or merchants.
Some of the winners are; Wilson Kwanya from Mutunde (UGX5,000,000), Henry Otafiire from Najjera (UGX4,200,000), Ronald Gyagenda from Kanyanya (4,200,000), Janet NamakulaKatende from Kisasi (UGX 4,200,000), to mention a few. Each of the winners is expected to share a part of his/her winnings with a beneficiary of their choice, it could be a family member, relative, or friend.
Wilson Kwanya with his wife as his beneficiary plan on putting aside their winnings to pay off their children's school fees as soon as schools re-open. Meanwhile, Kwanya is a Matooke dealer.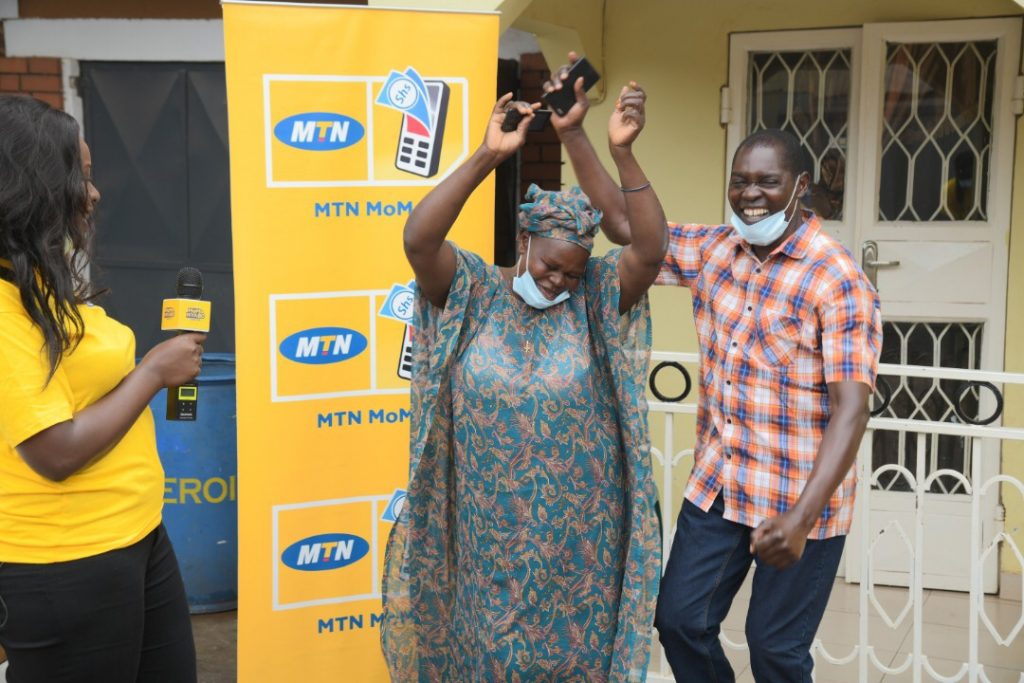 Janat Katende Namakula (Pictured in the featured image) says she will use the money to clear rent arrears that accumulated during lockdown. She runs a shoe business in container village.
Ronald Gyagenda, a compound designer, says he plans on using the money to acquire a new machine to boost his work as well as buy some building materials to start his building journey.
This third installment of MomoNyabo came at the time the telco had just launched a campaign under the theme, "Keep some Money on MTN MoMo, It saves" aimed at sensitizing its customers on why it's important to keep some money on their MTN MoMo wallet and associated benefits of using mobile money.
Generally speaking it is always of an advantage to have money on your mobile money wallet for safety/security purposes. Now that most companies are calling for a cashless economy, customers should abide by it as it's seen that to acquire some services for these companies require no use of hard cash.
Meanwhile, in times like these; the Covid-19 pandemic – bring out the purpose/genuine reason as to why we ought to adopt to cashless economy. Without the use of hard cash reduces the risk of transmitting diseases and viruses from one person to another.
For MTN customers to participate in this on-going promo, dial *165# or use the MyMTN app to transact using mobile money such as; buy airtime or bundles, pay for utilities. The winners are chosen in draws broadcasted on NBS and Bukedde TV from Monday to Friday at 8:20PM (EAT).