The government body responsible for communications in Uganda; the Uganda Communication Commission (UCC) last week released its market performance sector report of January 2020 shows mobile money agents reduced from 225,879 in September to 219,577 agents as at the end of December 2019 — despite the mobile financial services continued steady growth.
The contraction in the mobile money agent network, the report says, could be attributed to:
Increased competition from agency banking.
Increased bank to wallet and wallet to bank transfers.
Multi-network agency models that arose following barring of exclusive mobile money dealership obligations.
Increased number of merchants accepting payments which has kept money in the ecosystem.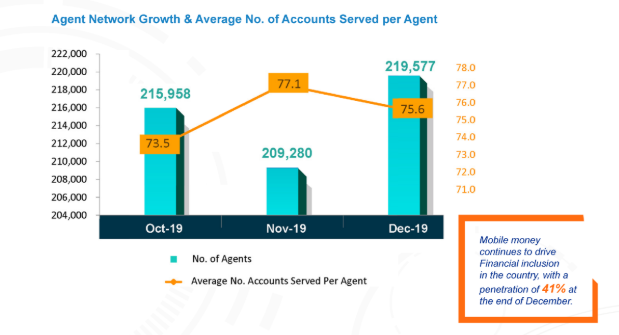 Meanwhile, the report shows the quarter ending December 2019, seven hundred thousand (700,000) new mobile money accounts were registered.
"Net additions in registered mobile money accounts between December 2018 and December 2019 stood at 2.6 million new accounts," the report says. The quarter ended with 27.1 million registered mobile money accounts, up from 26.4 million in September 2019. The increment being 0.7 million registered accounts.
On the other hand, active mobile money accounts stood at 16.6 million accounts in December 2019, up from 15.6 million in September 2019, representing 6% quarter on quarter growth. UCC considered active mobile money subscriptions that have conducted at least one billable financial service in three months, in this case, October – December 2019.
Mobile Money Changing The Financial Landscape
Mobile money is an electronic wallet service that allows people to receive, store and spend money using a mobile phone. It has grown to become a popular alternative to both cash and banks because its ease to use, convenience, and secure. The service can be used anywhere there is a mobile phone signal — one reason people have resorted to using it instead of banks.
With fear of running out of business, banks are joining the mobile money space for survival.
A study done by Kabanda, D. K. (2014), "the impact of mobile money services on the performance of the commercial banking sector in Uganda". Showed that banks have experienced both a decline in profitability and liquidity in recent years and this to some extent has been attributed to the growth in use of mobile money services.
Now telecoms and banks are partnering as the two seek to exploit the power of synergies to grow their revenues. The gap between commercial banks and mobile money service providers continues to get thinner by day as the two continue synchronizing service provision to offer seamless customer experience.
With mobile money, one could store, send, receive money as well as pay for services including utility payment, savings and loan — which were originally done in a bank. This made it become increasingly difficult for banks to stay competitive in the market. Hence, the partnership.
Anyone with mobile phone can have a mobile money account. It's so accessible, which makes it extremely useful in more remote parts of the world, where there no banks.
Now banks with the authority from telecoms, allow their customers access their bank accounts on their mobile phones, through the mobile money platform. While in a remote area where there are no banks, you can now easily access it via your mobile phone.
One is for instance able to withdraw money right from a bank account into the mobile money account as well as make a deposit (from mobile to bank). They can as well check their bank account balance, and do more like pay utilities.
Mobile money with no doubt has changed the financial landscape in the country since its introduction in 2009 and is as well approving a reality of a cashless society.