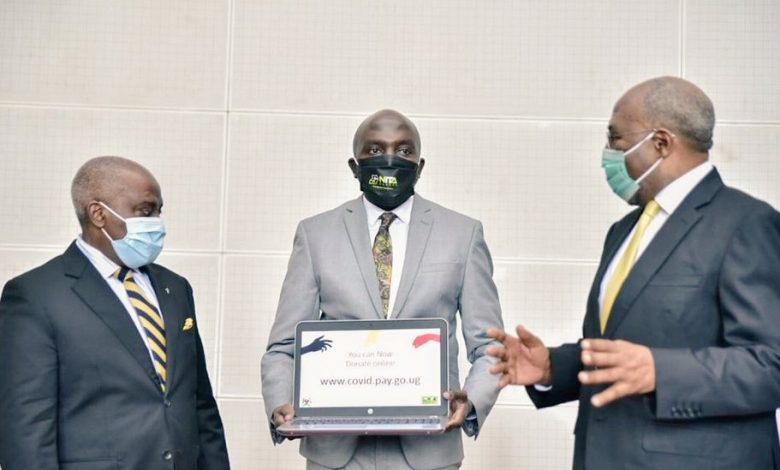 The National Information Technology Uganda (NITA-U), has developed a covid fund citizen fundraising platform for Ugandans and this morning unveiled it and officially handed it over to the Office of the Prime Minister.
The online system is aimed at mobilizing resources and funds to boost the coronavirus fight in the country.
"We welcome this ICT initiative that will bolster our fundraising efforts. Using the online portal means Ugandans can still participate in the nationwide effort to combat Covid19 whilst maintaining the Ministry of Health guidelines of social distancing and avoiding the use of cash,' said Prime Minister, Rt. Hon. Ruhakana Rugunda.
The online system enables every one with donations from as little as UGX1,000 to make a contribution at their convenience through the website or mobile phone.
When using the easy-to-use website, www.covid.pay.go.ug, one will be able to make a contribution to the national fight against Covid-19. Additionally, one can see, in real time, a funds counter that shows a cumulative total of contributions as they are made. Contributions can be either money or items.
Also, once one makes the contribution, one will be added to the honorable wall of contributors. It is this honorable list of contributors that periodically gets applauded by H.E President Yoweri Museveni.
In the event one doesn't have a smartphone to access the website, then they can make the contribution using MTN Mobile Money by dialing * 165*4*4# ok and Airtel Money.
NITA-U's Executive Director, James Saaka, said the platform will enable the participation of Ugandans who may wish to make donations but are limited by mobility, fear, language, proximity, and flexibility.
"Ugandans are called upon to join the fight against Covid19 by utilizing this easy to use fundraising portal," says Saaka.