News
Tumwebaze Officially Hands Over ICT Office to Judith Nabakooba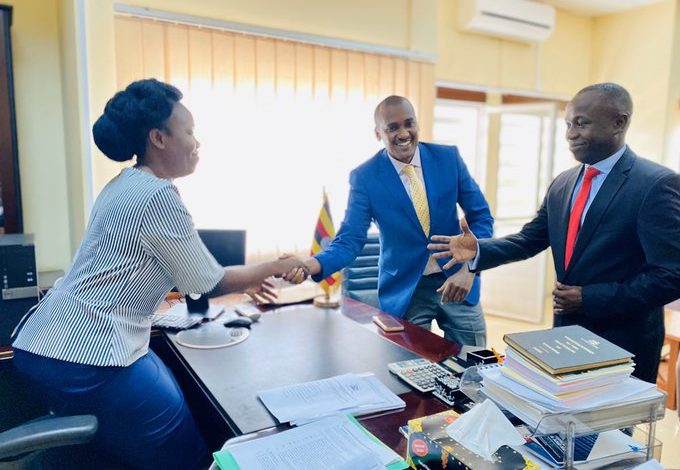 Outgoing Minister of ICT and National Guidance and now Minister of Gender, Labour and Social Development; Hon. Frank K. Tumwebaze has today formally handed over the ministry office to Judith Nabakooba and Peter Ogwang.
Hon. Judith Nabakooba replaces Tumwembaze as the Minister of ICT and National Guidance while Hon. Peter Ogwang replaces Hon. Nantaba Idah Erios as the State Minister of ICT and National Guidance.
The hand over ceremony was held at the Ministry of ICT head offices in Kampala with the presence of the PS. Ministry of ICT; Hon. Vincent Waiswa Bagiire, UCC Executive Director; Eng. Godfrey Mutabazi, NITA-Uganda Executive Director; James Saaka, and Uganda Media Centre Executive Director, Ofwono Opondo.
Nabakooba becomes the first female minister to take over this position. She and Ogwang were appointed by H.E. President Museveni on Dec. 15th, 2019. They were later sworn in yesterday at the State House and cautioned against involvement in corruption.
Tumwebaze while at the swearing ceremony would later announce via his Twitter account, that he would officially hand over office today.
While handing over, he asked the new board with Nabakooba as their head to protect startups and innovators in the country. During his three-and-a-half term, he has been supportive to innovators through initiatives such as National ICT Initiatives Support Programme (NIISP) that facilitates creation of an ICT Innovation ecosystem and marketplace for Ugandan innovative digital products.
Adding to his remarks, Tumwebaze said the Ministry has a plan of digital vision that will ensure enhancing internet connectivity in the country, asking the new board to go with it and make this a reality.
In his closing remarks, he applauded the Uganda Communications Commission (UCC) and the National Information and Technology Authority (NITA) for their work done to provide affordable internet throughout the country, ensuring government services go online, and investing resources to connecting it all.
Nabakooba and her junior; Ogwang said are already to work and won't tolerate corruption in the ministry.
"We are going to analyse how much Uganda has been connected to the internet. I will also not entertain corruption," said Nabakooba.
Bagiire went to appreciate the work the outgoing minister; Tumwebaze has done for the ministry.
"We have had the best support we ever need from Tumwebaze in implementing the roles of the ministry and the staff can testify to that," he said.
He ended his remarks saying, "from henceforward, Tumwebaze will always be a guest at the ministry."