Telecommunication firm; MTN Uganda today entered a new partnership with DSTV Uganda, to provide time-based internet bundles for its DSTV NOW subscribers.
The announcement was made today at the MultiChoice Uganda head offices is Kololo ― briefed by MultiChoice Uganda Head of Customer Experience, Ms. Patrica Kiconco and MTN Uganda's Senior Manager for Digital; Ms. Suzan Kayemba.
The partnership comes at the time the 2019 African Cup of Nation is happening in Egypt. Where most football fans dubbed by some ― "die-hard" fans of football do not want to miss any match. Notably, with Uganda's National Team; The Uganda Cranes, playing, DSTV doesn't want Ugandans to miss any game.
But note, this isn't about the African Cup of Nations but entertainment at large ― i.e. series, movies, music, among others.
DSTV designed the DSTV NOW app, to give its customers the ability and power to watch their programs on mobiles or laptop computers or PCs ― while away from their Television sets. Therefore through the DSTV NOW application, users can stream live TV via their smartphones or computers.
However, the catch comes in ― 'internet'. To able to use the app and stream live TV, the subscriber requires to have internet respective to their services providers. But while streaming, the data bundles is/are consumed so fast ― this is where the MTN's new partnership comes through.
The partnership sees MTN Uganda introduce 'Time-based' internet bundles specially for the DSTV NOW subscribers. The bundles are available for 2 hours at a price of UGX6,000 and 4 hours at UGX12,000.
Once you purchased the subscriber has access to unlimited content till his/her timed data expires. Interestingly, the user can connect up to 4 devices simultaneously using the same data, same account.
It is not the first time MTN is offering such bundles. The telco in June last year signed a partnership with StarTimes to offer special promotional MTN TV bundles for viewers to watch StarTimes entertainment via the StarTimes App. On the other hand, signed the same deal with Kwese Iflix in the same month.
The DSTV NOW supports DSTV customers across all packages from Premium to Access. They're are not charged any additional subscription cost when signing up to watch TV via the app or the online website.
"There's no additional subscription charge when you sign up and watch your TV via the app or the online website. All you have to do is sign up online or via the app with your DSTV credentials. Once you load your DSTV Now MTN data bundles, you'll be able to enjoy Live TV, and start streaming all our world-class entertainment anywhere," Patricia Kiconco, MultiChoice Uganda's Head of Customer Experience and Care, said during the press conference.
Note that these bundles run for 24 hours since time of activation. However, can get done in 2 or 4 hours if used non-stop. The bundles are like timers, when you log in, the 2 or 4 hour timer starts counting. Once you log out, the timer stops.
"We created these bundles because we know that people are consuming entertainment, they're not watching the bundles, but instead watching time of expiry. Entertainment is consumed in time, that is what people understand and that's what makes these bundles special," MTN Uganda's Senior Manager for Digital; Ms. Suzan Kayemba said during the press conference.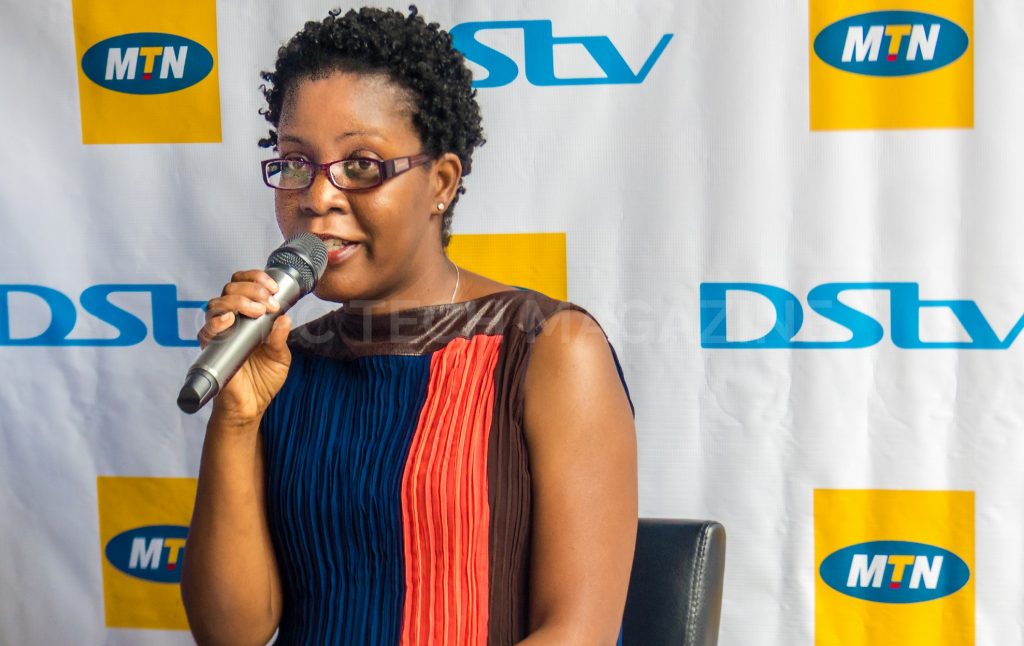 Patricia mentioned that they are working to introduce GOTV NOW as well to be part of the initiative. However, she didn't mention when the app will be rolled out. She also on the other hand declined to comment whether this internet solution would extend to other telecoms; Airtel and Africell.