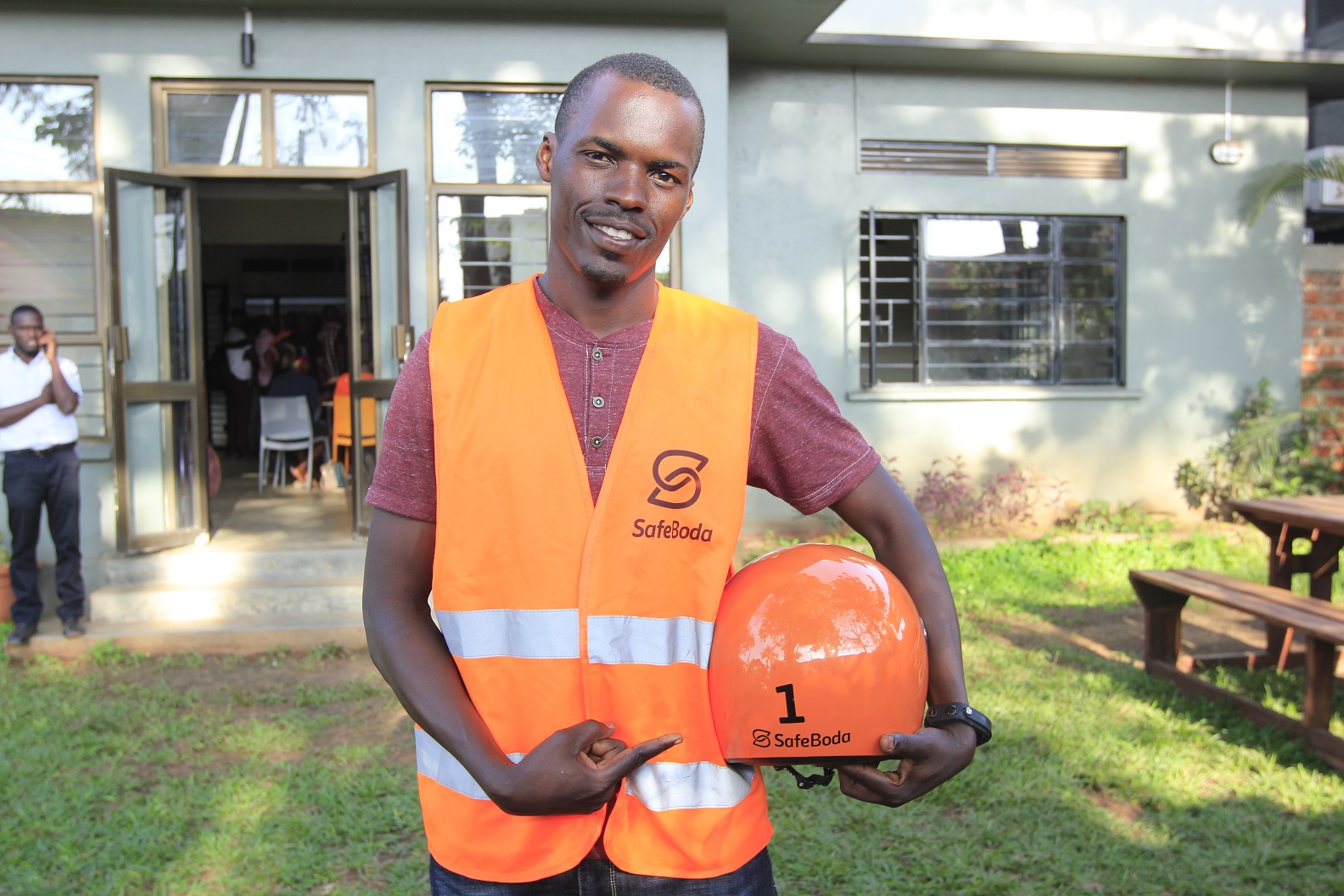 It's no news that Safeboda is the pioneer of the moto-taxi hailing industry in Uganda. Their innovation drove to the rise of competitors such as; UberBoda, Taxify Boda, Dial Jack, Taxido, among others.
Inaugurated in 2014, the moto-taxi hailing company now has over 8000+ registered riders operating within areas of Kampala, and Entebbe with plans of expanding beyond. And with the 8000+ riders and counting, they are all pioneered by Moses Musinguzi—who happens to be the company's first rider. This will remain in history of the company's book, considering the fact that he holds helmet number 1.
While we (me inclusive) thought that the helmet number 1 was held by one of the company's Co-Founders, well we were wrong. Moses Musinguzi is the true holder of this mighty number.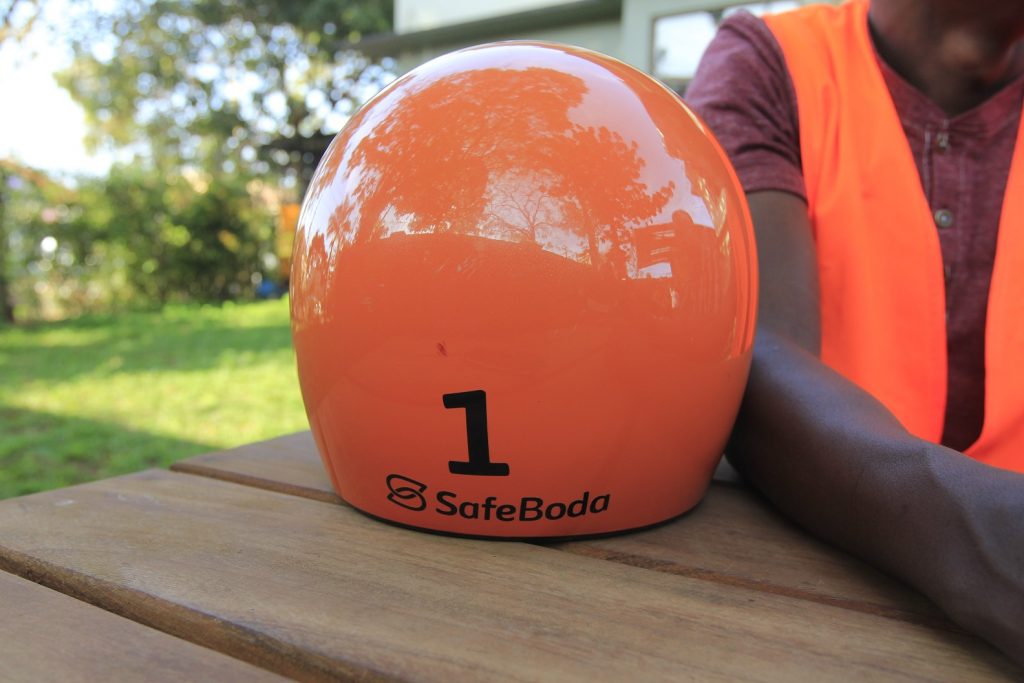 Moses came to popularity after the company started a campaign dubbed I Found the 1—and who ever found him was rewarded with either safeboda credits, MTN data bundles, lunch coupons, movie tickets, among others. On the other hand, the company was pushing, and recommending its customers to go cashless—paying for their trips using safeboda credits, that can be purchased via mobile money.
While we went through hustle to set up this interview, from his busy schduled PC Tech Magazine managed to secure one. We sat down with Moses at their head offices in Bukoto St, Kampala, and this is what we had with him;
How did you become a Safeboda rider and what inspired you to stick with the company to date?
I became a Safeboda when the team reached out to me at my Stage (Endiro – Kisementi) in early 2014. They told me about the idea and was immediately sold; I saw an opportunity to be respected as a professional boda boda rider therefore I chose to join Safeboda.
Why am sticking to the company? Well, there are so many reasons; Safeboda is so transparent about the goals and objectives and we all work together as a community, both staff and the Safebodas. Ever since i joined Safeboda, other motorists and pedestrians on the road started to respect me as a professional because Safeboda trained me to be one. My income also greatly increased from the time I joined Safeboda. The list is endless and I can write a full booklet… (laughs).
How is it like working for a technology-based company?
Working in a tech company is as exciting as there's room for talent growth, exposure I get from the professionals around me makes me a better person every day and there are always problems you solve on a daily basis thus impacting directly or indirectly the end product users.
I have personally learnt so much since I joined Safeboda for example I am now very good at using Microsoft Excel and actually hope to pursue further studies in data science or project management in the future. This has all been inspired by working for Safeboda.
What can you say is Safeboda's greatest/biggest achievement to date?
What I would refer to the biggest achievement is that we have revolutionized the whole boda boda transportation system by increasing on the number of safer rides through road safety and the use of technology (mobile app). Safeboda has brought about behavioral change in both the riders and passengers. There's 100% helmet adoption among Safebodas and they understand and respect the traffic rules. Passengers have also since changed from standing on the road to stop a boda to now just using an app and more they are also wearing helmets.
What's your best Safeboda campaign you have come to love/like since the company's inauguration?
My best campaigns are 2;
1. I Found the 1:
I was directly part of this campaign as customer had to request and find me as number 1. I really enjoyed it because it gave me an opportunity to meet and interact with many Safeboda customers while educating them about the value of going cashless. Also because in this campaign I took my last commercial trips as I am now working full time at the Safeboda office to continue to improve our community.
2. Monthly madness:
This was a very exciting campaign because customers got 100% bonus on the 1st of every month for any amount of credit topped up. This campaign introduced many of us to Safeboda credit and the convenience of riding cashless. We are quickly moving into a cashless so I really enjoyed this campaign
Your opinion on the moto-taxi hailing industry in Uganda and its future?
Moto-taxi hailing industry in Uganda is definitely going to grow stronger and more diversified and competition is likely to be stiffer which is good because more competition means more innovation. In the long run this will promote safer trips, convenience and a much more professional boda boda industry. I look forward to it.
With the gradual growth of these companies, will Safeboda stand the competition?
We have proved that we can stand and beat the international companies which are considered to be the best. Once they get into the same market we share and we can still do it because we're providing local solutions to every market we go to.
Safeboda was built in Uganda for Uganda to create transportation solutions for Ugandans.
Safeboda has one female rider (so far), in your opinion how can the company bring more female riders on board?
We're working towards that by professionalizing the industry and once the women know that Safeboda's are respected, secure and are making more money or equivalent to other professions say teachers, doctors etc., then they will gradually come on board. However this can truly be possible if the society change the way they attach some jobs to gender.
I do however welcome all women seriously interested in joining the industry to come and we can set up a training programme.
A number of reports have been filed of moto-hailing riders getting insulted by regular riders, how can these two parties cooperate?
I think moto-hailing riders should endeavor to educate their colleagues about these companies and how they work. The reason why there have been incidences is because they think moto-hailing riders are taking all the business which isn't the case. The population of Kampala is approximately over 2 million people meaning there's still a lot of demand and room for everyone to work.
They (moto-hailing riders) should also educate them (regular riders) about the benefits so that they join the movement.
I presume the Safeboda app is one of your favorite's apps, right—what could you say are your favorite mobile applications?
Safeboda apps (customer and driver) come first.
Social apps most especially Twitter then Facebook, Instagram, LinkedIn and WhatsApp.
Podbean for the different podcasts I listen to.
Slack for work (internal communication).
Google maps.
Because of your busy schedule, have you thought of having someone manage these platforms for you, Twitter most especially?
The only management I would like is maybe analyzing what I tweet and giving me feedback on how to improve but—I feel am communicating directly from my heart to the people if am solely running my account.
Thank you for your time Moses, any last words?
Thank you for this interview and I would like to insist on the helmet wearing; once you make a decision that you're going to hail a boda. I also urge people to embrace technology and download the Safeboda app and consistently use cashless as this will reduce their transport costs (25% discount) and offer more convenience.[related-posts]