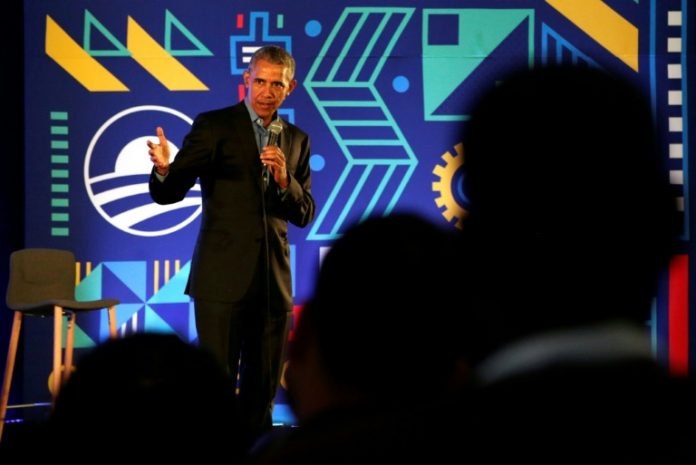 Following last year's call for African entrepreneurs to send in their entries for the Obama Foundation Fellowship Programme – a program that seeks to support outstanding civic innovators in order to amplify the impact of their work and to inspire a wave of civic innovation, 200 entrepreneurs were selected hailing from 44 countries (Uganda Inclusive) across the continent.
Speaking to participants in his Leaders Africa program, Obama urged them to pursue change at home and emphasized the impact they can have as the continent's population is the fastest-growing in the world, according to reports by Associated Press.
"How big are your ambitions?" Obama asked.
The entrepreneurs bring on board a wide range of skills and experiences to share with one another and the rest of the world. The 200 were in attendance during the President's visit to South Africa for the Commemoration of Former President of South Africa; Nelson Mandela.
Here are the 12 Uganda Entrepreneurs:
Kiyingi Amos
Amos is National Director and Founder of Uganda Unites, a youth-led movement that seeks to connect youth from different religious and ethnic backgrounds across Uganda.
Francis Xavier Asiimwe
Francis is the CEO at Kaaro Health, an innovative Uganda-based health-tech company that is using software and hardware tools to improve access to high-quality healthcare for underserved communities.
Robert Katende
Robert a social worker working with children in less privileged communities uses the game of chess as a platform to restore and transform their lives by awakening the sleeping genius in each of them.
Kevin Lubega
Kevin has founded and contributed to various technologically dependent businesses, in sectors including FinTech, renewable energy, e-commerce, e-learning, and high-tech.
Abaas Mpindi
Mpindi is the CEO and Founder of the Media Challenge Initiative, a youth-driven non-profit building the next generation of journalists
Andrew Mukose
Andrew is the Founder and CEO of Gifted Hands Network, an organization that aims to reduce breast cancer deaths and increases the employability of visually impaired women in Uganda.
Elizabeth Nalugemwa
Elizabeth is the CEO and Founder of Kyaffe Farmers Coffee with her passion to empower women coffee farmers through fair trade coffee and foster leadership within her community.
Enock Nkulanga
Enock is a National Director for African Children's Mission, an NGO with operations in Uganda and Kenya reaching out to vulnerable children through education.
Monica Nyiraguhabwa
Monica is the Co-founder and Executive Director of Girl Up Initiative Uganda, which aims to provide young women and girls with opportunities to succeed and thrive as leaders in their slum communities through holistic education and economic empowerment.
Manuela Pacutho
Manuela Founder and CEO of The Cradle; Uganda's first ever 24-hour workplace infant and toddler care center.
Ogik Peter
Peter Co-founder and Chairperson of the Source of the Nile Union of Persons with Albinism (SNUPA), an NGO that advocates for the rights of persons with albinism in Uganda.
Mushusha Richard
Mushusha Founder, and CEO at Footmo Kit, a handheld device that diagnoses foot and mouth diseases in livestock in hard to reach and underserved areas.