Apparently, eCommerce stores are in the amidst of taking on one another when it comes to having the most customer base on their side. With a few days to the love's day dubbed; Valentines' day, these eCommerce are giving some unbelievable pricing's as well as discounts. This might not be new to us considering the fact that this has always been that way. These firms tend to low their prices, and give discounts to their products on public holidays, festive seasons, seasonal greetings, and so forth.
Jumia one of the leading eCommerce firms in Africa is known for this practice. They've been seen giving a chance to its customers to buy mobile phones and other electronics as low as UGX5000. Kilimall, as well is trying to keep up with the pace.
On Friday today, we managed to come across another eCommerce store; Befreestore Uganda who as well are trying to beat it up in the eCommerce platform. The store has launched their campaign dubbed; "Meet Your Match" where it will offer free gifts, shopping vouchers and up to 50% discount off on over 200 products.
Isaac Byamugisha; CEO at Befree Store said that the campaign is all about rewarding their customers for being loyal to the store.
The firm also assured this website that they offer quality products at affordable prices with the most favorable return policy that one can't find anywhere else. In addition, deliver products at the shortest time possible country wide, Rwanda, South Sudan, and Kenya.
"Customers within Kampala business area enjoy free deliveries no matter the price of the product purchased," Isaac told this website.
Unlike Jumia, and Kilimall that charge a delivery fee, this could be of an advantageous to them (Befree). However, Jumia offers free delivery for customers that purchase products above UGX200,000.
The store is giving all its customers a chance to  spin the wheel of love once a day to win some money that they will use to shop. The wheel has up to UGX150,000 that will be given away each day to customers. The amount given away is a contribution to total amount on products selected by the customer.
Besides winning through the Wheel of Love, customers can as well win directly when they shop to a certain total amount as follows:
Win UGX15,000 when you purchase products worth UGX200,000.
Win UGX25,000 when you purchase products worth UGX250,000.
Win a pair of Casual Shoes worth UGX50,000 when you purchase products worth UGX300,000.
Win two pairs of classic Casual Shoes when you purchase any product in electronics category worth UGX500,000.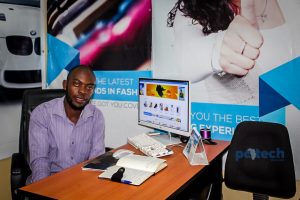 "Just like any other store, our payments can be made through credit cards, mobile money and cash on delivery Payments," Isaac said.
Notably, Jumia of recent added another payment option for it's customers allowing them to pay with their bank ATM card dubbed Card on Delivery. It works just like cash on delivery where you pay physical cash when the item is delivered to your premise, except this time you use your card to checkout. The delivery person comes with a Point-Of-Sale(POS) terminal similar to those you have seen in major supermarkets.
You then swipe your card on the machine, enter your PIN and if you have enough funds in your bank account, the transaction is successful. A receipt is delivered to you along with your item before the delivery guy leaves.