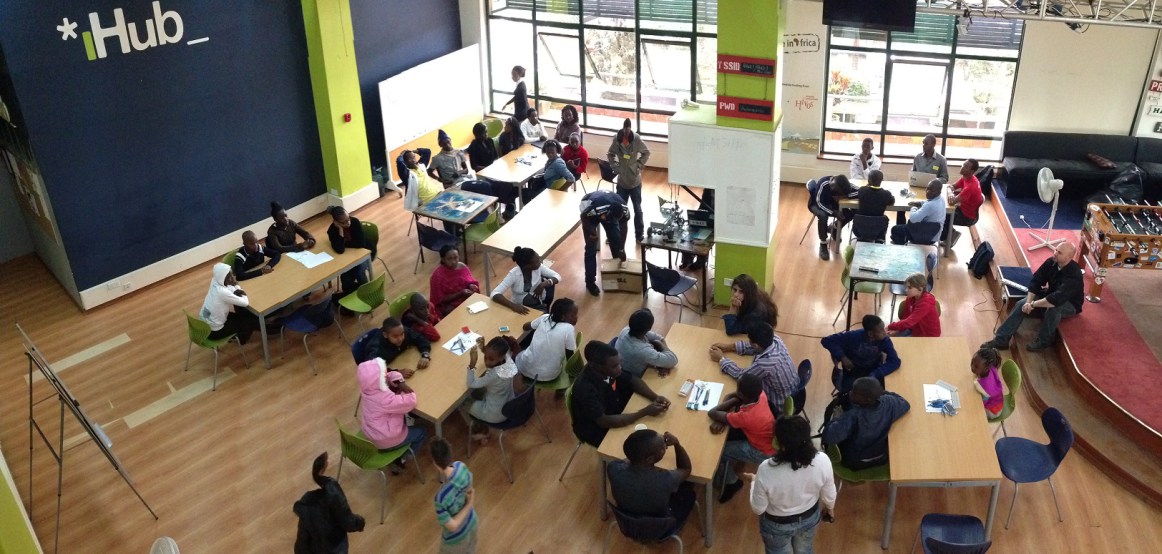 At the on-going Africa Tech Summit in Rwanda, Kigali, Abdihakim Ainte; Principle Founder of iRise, an innovation and technology Hub in Mogadishu, Somalia has told the audience in attendance that Africa innovation hubs are so much over rated. This is during a breakout session of the second day (Thursday 15th Feb, 2018) of the event. Discussing "Innovation Hubs & Sustainability" where tech hub directors in Africa including; CK Japheth (Innovation Village), Barbara Birungi (Hive Colab), Aphrodice Mutangana (kLab), Sheilah Birgen (iHUB), Rahim Mngwaya (Buni Hub) have joined him on discussing the issue.
Notably, iRise Hub was the first of its kind in Somalia launched in September 2017. Being the first community-based tech innovation hub in the capital Mogadishu, its offers Somali entrepreneurs, innovators, developers, investors, techies, and startups the working space to share ideas, connect and collaborate with each other.
Quoting TechMoran, Ainte said. "Innovation hubs are so much over rated in Africa. Youth sign in and realize that they get only internet and nothing more. This causes them to be disillusioned  as they don't receive much more than what they will get from restaurants and coffee shops"
According to reports by TechMoran, Ainte says, hubs are just spaces and doing business and adding no value.
"They should be combined with building skills and capacity to help fill the unemployment gap and build a future generation of Albert Einstein," he said.
However, Nairobi Garage General Manager; Hannah Clifford disagreed with her.
"Not all, but some hubs including The Garage, have helped connect entrepreneurs to investors. Something which wouldn't have happened if they were working in restaurants or coffee shops," she said.
Hubs or co-working spaces launch more often in the market. But collaboration is needed to build capacity, help entrepreneurs move from just an idea to a market. Therefore, the entrepreneurs using these spaces, need to be accountable to each other and turn job seekers into job creators in tech and non-tech fields, Hannah emphasizes.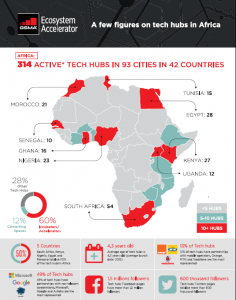 In September 2015, a mapping exercise done by the World Bank listed less than 120 tech hubs in Africa and as of July 2016, a research that was done by GSMA suggested there are 314 active tech hubs in 93 cities and in 42 countries in Africa (a number aligned with Disrupt Africa's prediction in this March 2016 article).
The World Bank uses a narrower definition of tech hubs and tech incubators for its count. GMSA mapped active "physical spaces that fall under the broad term of tech hubs: incubators, accelerators, co-working spaces, fab labs, maker-spaces, hacker-spaces and other innovation spaces."
GSMA further stated that, in Africa, although 50% of the tech hubs are concentrated in 5 countries (South Africa, Kenya, Nigeria, Egypt and Morocco). However, almost each of the other African countries have at least one or two active tech hubs. When it came to identifying some leading countries by sub-region when it comes to tech hubs: Morocco, Tunisia and Egypt were found in North Africa, Nigeria, Ghana and Senegal in West Africa, Kenya and Uganda in East Africa, and South Africa in Southern Africa.
Notably, Uganda has over 12 hubs; Outbox Hub, Hive Colab, Innovation Village, WITU Hub, NFT Mawazo Innovation Hub, to mention a few.
Writer's Note: TechMoran are one of the media partners of the 2018 Africa Tech Summit in Rwanda, Kigali.