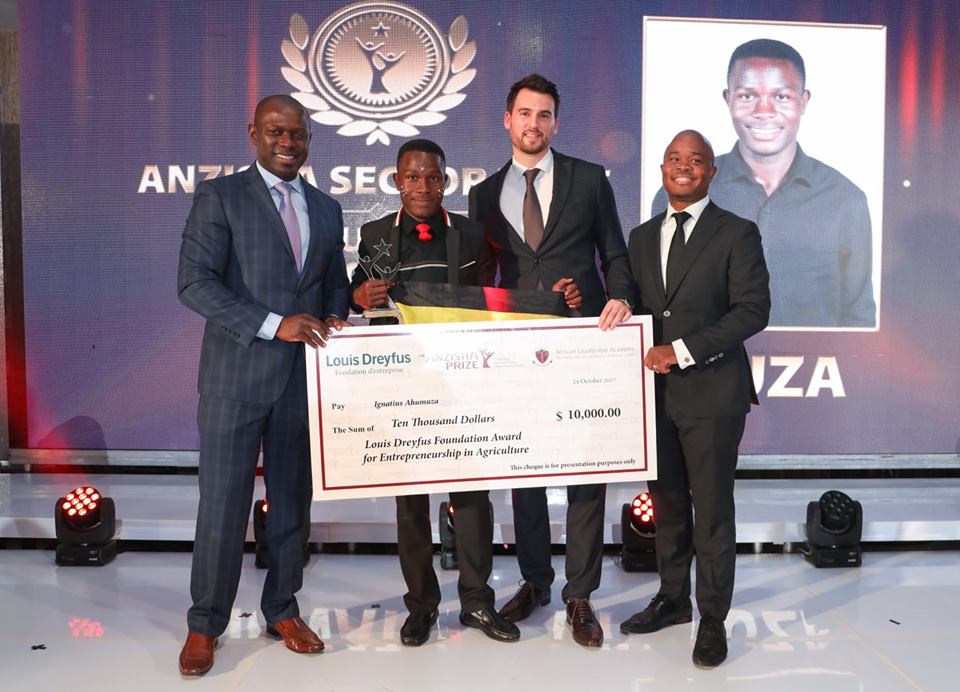 In August this year, we reported how Uganda's very own startup entrepreneur 'Ignatius Ahumuza' was named among the finalists of the 7th annual Anzisha Grand Prize – an entrepreneurship challenge competition that has a partnership between African Leadership Academy, Mastercard Foundation, and Louis Dreyfus Foundation that offers cash prizes and support to startup entrepreneurs in Africa.
With over 800 applications that were submitted in, only fifteen entrepreneurs emerged as finalists including; Uganda's 21-year old Ignatius Ahumuza; Co-Founders of Art Planet Academy; a firm which provides practical agriculture training in schools, and also creates as well as innovates climate-smart farming technologies, tests them at demonstration farms and incorporates them into a practical agriculture training curriculum.
All finalists were flown to Johannesburg, South Africa to attend a 10-day entrepreneurial leadership bootcamp where they were coached on how to pitch their business to a panel of five experienced judges who have contributed to building youth entrepreneurship in Africa – for a share of USD$100,000 (approx. 360 Million UGX) worth of prizes and support.
On the award ceremonial day, Art Planet Academy wasn't among the three finalists: Edgar Edmund from Tanzania, and Victoria Olimatunde from Nigeria who emerged as the 1st and 2nd runners-up respectively and Ibrahima Ben Aziz Konate from Cote D'Ivoire who emerged as the overall winner.
However, Art Planet Academy was announced as the overall winner of the Agriculture Sector Prize –  a prize that was sponsored by the Louis Dreyfus Foundation. The award was accepted by Ignatius Ahumuza the Co-Founder of the firm.
Art Planet Academy's purpose is to expand agricultural education across rural communities to increase farming skills and food security. This is an example of how a driven, industrious and energetic 21 year old can contribute to his or her country's economic development.
About the 3 finalists:
Overall Winner – Ibrahima Ben Aziz Konate from Cote D'Ivoire
He is the Founder of Poultry d'Or – a company that produces and distributes fresh poultry products and agro-foods. Their products are slaughtered, cleaned, packaged and delivered all in the same day! The company specialises in the production and distribution of agri-food products and they aim to sell chicken at competitive prices directly to the consumer.
First Runners up – Edgar Edmund from Tanzania
He is the Founder of  GreenVenture a company that recycles plastic waste into cheap and affordable building products such as paving blocks. The venture aims to help people to build houses but also helps to promote environmental sustainability.
Second Runners up – Victoria Olimatunde from Nigeria
She is the Founder of Bizkids, a board game designed  to teach children about financial literacy, how to save money, money management and the rudimentary aspects of starting a small scale business in a fun and interactive gamified manner.