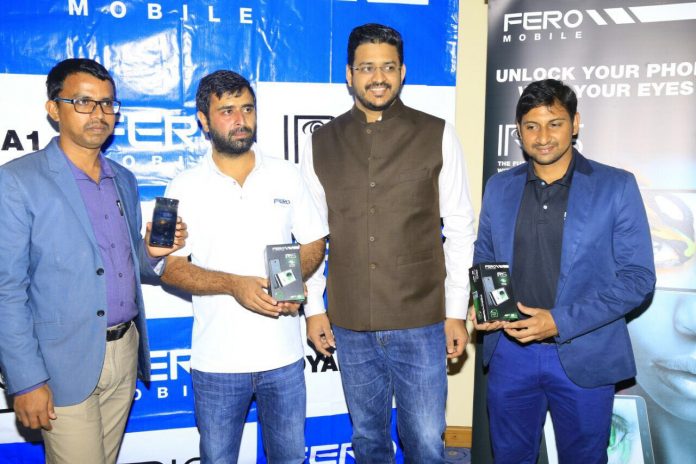 MiDCOM Group being a leading mobile phone distributor in the Middle-East and African region with its portfolio consisting of all the major global brands such as Microsoft, Samsung and Huawei to name a few, today on behalf of FERO, unveiled six of FERO mobile phones (3 feature phones and 3 smartphones) during a press conference that was held at Golf Course Hotel. Uganda becomes the second East African country to receive these flagship after there recent launch in Kenya last month.
During the launch, the firm said, that the brand is focused on introducing innovative solutions that are designed to enhance the customer experience.
FERO Smartphones
FERO Mobiles launched three smartphones .i.e; IRIS, Royale A1, and the L100.
IRIS, just like the name sounds, is an Eye-conic smartphone with an inbuilt Iris Scanner. The phone allows users to unlock it simply by scanning your eyes. This feature during the press launch was tested when wearing glasses or not, this means that even though you have you glasses on, as long as the phone belongs to you, it will definitely open/unlock. The biometric authentication provides a top of the line securtiy to such devices.
The firm said, "It has pioneered in the feat to bring technology for the masses".
Spec-wise: The Dual-sim phone spots an 5-Inch HD IPS+ display; providing users with the an impressive visual performance, 1.3 Ghz Quad Core chipset, 1GB RAM/8GB ROM which can be expandable to 32GB of a microSD card, 8MP & 2MP rear and front cameras respectively, runs on Android 6.0 Marshmallow and all this is backed on a removable 2500mAh Li-ion battery, which I found not much interesting on such a phone. Finally, in terms of connectivity, Wi-Fi, 2G/3G/4G LTE networks, Bluetooth v4.0, and microUSB v2.0.
Royale A1, unlike the IRIS having the iris scanner feature, the Royale A1 comes in with a voice command feature. This smartphone packed a 5000mAh non-removable Li-Poly battery which we found much interesting. It comes with a 5-Inch HD IPS capacitive touchscreen, 1.3 GHz, Quad Core Processor, 1GB RAM/8GB ROM expandable to 32GB, 8MP rear camera and 5MP Front camera.
And finally the L100, according to firm, they said this smartphone is a game changer for mobile phones that support 4G networks, well, we ought to wait and see. Since we haven't gotten our hands on these phones, the firm at the launch, said that the L100 is incredibly fast with its incredible features. However, as we looked at the specs of this phones, we got some doubts! The L100 spots a 5-Inch IPS Display screen, 1.3 Ghz Quad Core Processor, 1GB RAM/8GB ROM and a microSD up to 32 GB (dedicated slot), 5MP both rear and front cameras, Android 6 Marshmallow, backed on a 2350mAh removable Li-Ion battery.
FERO Feature Phones
FERO Mobiles also along the smartphones (mentioned above), they launched three of their feature phones; F1805 Selfie, K2401 Selfie and K9 PowerHouse. The newest range of these feature phones come packed with a selfie came. Which makes it an awesome feature for a feature phones, and apparently, I guess it's the only feature phone with a selfie camera on it. The phones are further enhanced with an removable extended battery life that lets you go all day or a week on a single charge.
Adding to these features, are the nice looks, crystal clear display, feature-touch keys, Wireless FM Radio, support Dual-simcards, 32Mbs RAM/32Mbs ROM which is expandable to a microSD slot of up to 32GB. The rear camera of these phones is 1.2MP while the front camera of the F1805 and K2401 is CIF Front Selfie.
In terms of battery life; the 1.8-Inch F1805 Selfie packs a 1000mAh battery, 2.4-Inch, QVGA Display K2401 Selfie has 1800mAh battery, and finally the 2.8-Inch, QVGA Display K9 PowefHouse has a 2800mAh battery.
In terms of Connectivity, the feature phones pack a frequency band of GSM 900/1800Mhz, Bluetooth v2.0, GSM/GPRS networks, and a MicroUSB.
On closure of the press launch, the firm said its "aiming to increasing productivity among users and give them a new experience".
We haven't yet been notified on the stable prices of these phones, but we shall keep in updated in our coming reviews. However, these feature phones will be available in Red, Blue, and Black color variants. Available on sale in Kenya, Nigeria, Tanzania, Ivory Coast, Ghana, Rwanda, Senegal, and Togo. Uganda inclusive.
Price: The IRIS is priced at 420,000 UGX and the Royale A1 at 370,000 UGX. We shall keep you posted on the other prices……..
Editor's Note: These mobile phones are designed in the UAE specifically for the African and Middle East markets.