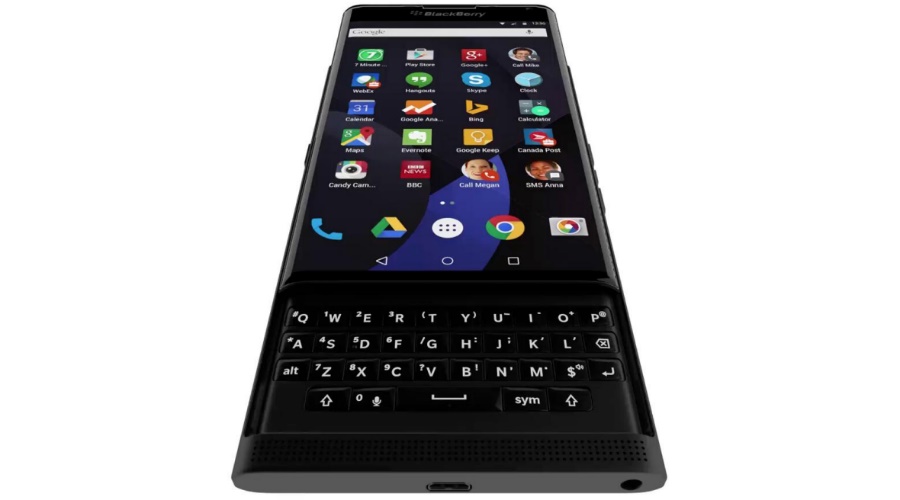 BlackBerry Ltd's new Android phone hitting the market this week could be the company's last attempt at making its devices profitable before ending production.
The Canadian company has unveiled several new phones in the two years since chief executive officer John Chen took over, but none has managed to stop hardware sales from falling. Chen has repeatedly said he will exit the device business if he can't make it profitable.
The BlackBerry "Priv"—named for its emphasis on privacy—runs a full version of Google's Android operating system but features some of BlackBerry's highly respected security and productivity features. It comes preloaded with an application that tracks how much other applications on your phone are accessing your personal data and location. It also has BlackBerry's signature physical keyboard, which slides down from under the touch screen.
"Perhaps there's something else in the pipeline, but this device does seem like a last stand," Brian Colello, a Chicago-based analyst at Morningstar Investment Services, said in an interview. "We've seen new products come out for the last couple years, BlackBerry's trying to get a hit with any form factor, any price point and now it's with a different operating system."
With its share of the global smartphone market at less than 1%, BlackBerry has been working to shift its focus to higher-margin software sales. As he tries to turn around the company's fortunes, Chen has held onto the phone business, which still accounts for about 40% of revenue. Blackberry could stop producing phones within the next year if it doesn't begin turning a profit, he said at a conference in October.
Software target
Chen is working to reach $500 million in software revenue by March 2016 by acquiring security-focused software companies and building up new products like secure teleconferencing. BlackBerry completed its $425 million acquisition of Good Technology Corp. on Monday, a deal the company said will contribute about $160 million in revenue in the first year.
Ron Louks, BlackBerry's head of devices, said the company will make announcements about its product "road map" in the beginning of 2016, but declined to say whether it would announce a new phone. Chen has said the company is going ahead with software updates to its BlackBerry operating system.
By running Android for its new device, the Priv sidesteps one of the biggest problems BlackBerry has had in persuading people to use its phones: a lack of applications. As the company's operating system waned in popularity, developers stopped making applications that were compatible with it, prompting even more people to ditch its devices.
If the Priv sells better than BlackBerry's two most recent major releases, the Passport and the Classic, it may keep the phone business going, Colin Gillis, an analyst at BGC Financial LP, said in an interview.[related-posts]
Declining shipments
BlackBerry shipped 800,000 smartphones in the quarter that ended 29 August, its lowest since at least 2007.
"It doesn't take a lot of phones to really move the needle for this company," said Gillis, who has a buy rating on the stock.
The company's shares gained 2.9% to $7.50 at the close in New York and have declined 32% this year.
The Priv, with a retail price of $699, is targeted at a "very, very competitive market," of high-end Android phones, Colello said, including those made by HTC Corp. and Samsung Electronics Co. The new device is BlackBerry's latest effort to find a phone that can stabilize sales as the company transitions toward Chen's software revenue target, he said.
"They've done a good job of continuing to lower their break-even level for the hardware side to stay in business, but even though the bar's going lower and lower, the sales still aren't keeping up," he said. "I think BlackBerry's still searching for a hit phone." Bloomberg
[
Live Mint
]