Features
5 Benefits of Adopting Hyper-converged Infrastructure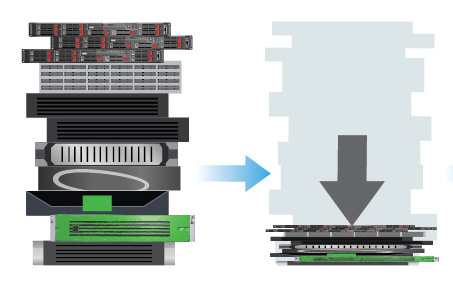 The growth of virtualization has helped usher in converged and hyper-converged technologies, and hyper-convergence especially is developing rapidly according to various IT commentators.
Convergence emerged from a need for IT departments to consolidate and simplify their technology arrangements, and the development of more compact hardware and the arrival of innovative software solutions such as hypervisors and software-defined storage solutions.
What is a hyper-converged infrastructure?
A hyper-converged infrastructure is the next step from a converged one. In a converged infrastructure, technologies and systems from different suppliers are consolidated into a single stack of hardware. This has the effect of reducing 'technology sprawl' and cutting running costs by reducing operational complexity.
The reduction in size of newer hardware helps – equipment that would have taken up several racks a decade ago may now take up much less physical space and reduce power consumption.
In a hyper-converged infrastructure, software in the form of hypervisors and storage controllers manage the hardware resources to meet the varying IT demands and circumstances.
This provides various benefits:
Flexibility and scalability
Hyper-converged environments make it quick, efficient and easy to deploy resources based on needs and other factors such as hardware downtimes. Because of the integration, re-configuration is possible in a short time frame without having to shut parts of the system down.
Monitoring and remedial measures are usually handled by the software automatically if desired, and swift reporting of where issues lie is possible through the console.
Cost effective
Changing needs can be met with re-configurations and changed use of existing resources rather than new hardware expenditure.
Depending on the SAN software used, you'll need only a modicum of hardware to achieve a wide data storage brief such as serving remote locations like regional branches and retail outlets. Virtual storage specialists StorMagic with their virtual SAN, SvSAN, enable multiple locations to be served from one central point using just two servers. This saves costs in running hardware and software and deploying skilled personnel in other locations.
System performance
Because it's possible to run computing tasks across various hardware units, it can allow the combining of computing power from several disk or solid state drives.
Environmental
Because there is the likelihood of existing hardware being suitable for use longer term due to software resource management rather than it needing replacement because of increased demands, then less redundant equipment is created. Existing equipment has a longer life cycle than perhaps previously.
Also, power use is vastly reduced compared to an ever-increasing array of hardware as is the need to use more energy in cooling.
Easy upgrade path
Instead of having to possibly change hardware with the upheaval and possible loss of revenue that entails, software upgrades to hypervisor and virtual SAN's are far easier and less disruptive. Good support here from your vendor is important.
Aiding growth
The rapid rise of hyper-converged infrastructures is of particular help to the smaller organization, especially as fledgling businesses can grow quickly. It means rapid growth can be met quickly and very cost-effectively.