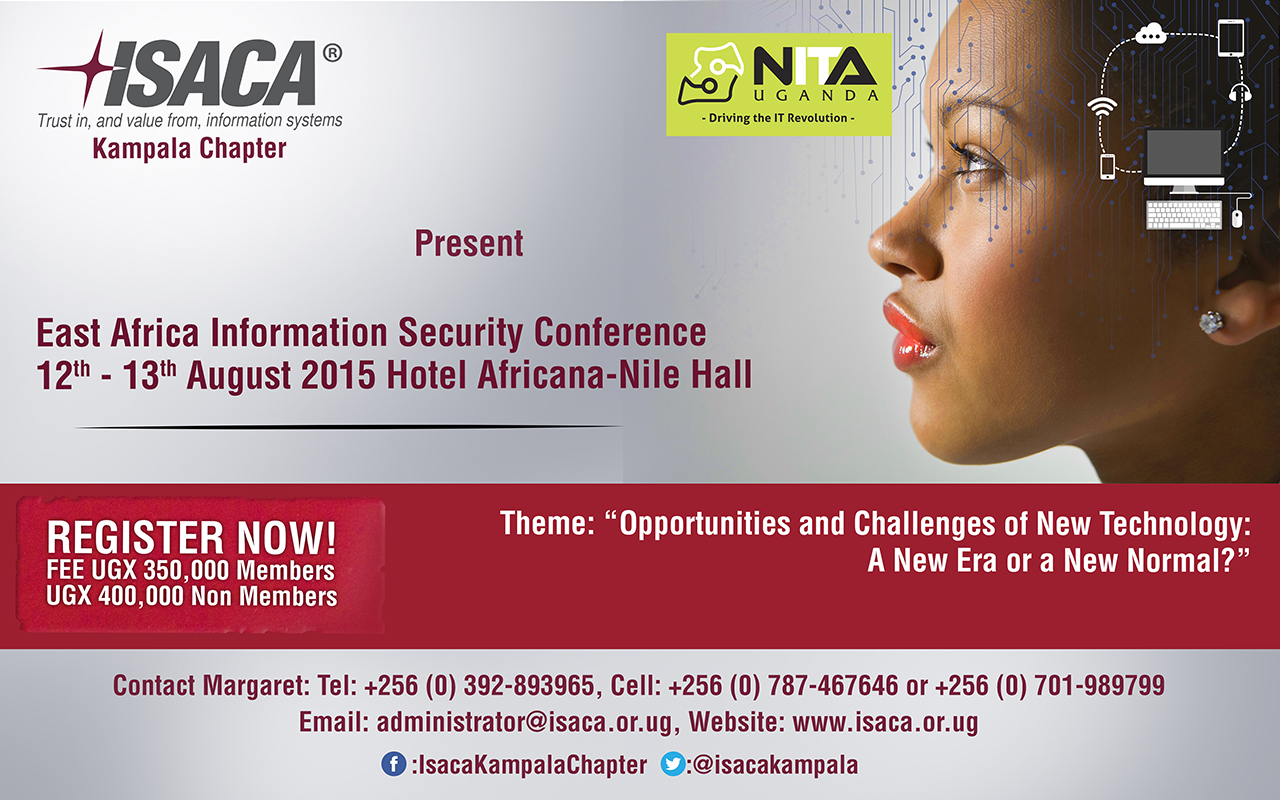 ISACA Kampala Chapter in partnership with NITA-U invites you to attend the annual East Africa Information Security (InfoSec) Conference 2015 from the 12th to the 13th of August 2015 at Hotel Africana, Kampala under the theme:  "Opportunities and Challenges of New Technology; A New Era or A New Normal?"
The conference is a premier event that looks to attract professionals in IT risk, security and governance in East Africa. It presents a unique opportunity to expand your professional network and build onto your knowledge and practical skills.
The main reason behind the conference is the rising importance of cyber security in East Africa due to the region's rapid development. The region has a huge potential to increase its competitiveness by modernizing services and providing them online. However, it means that organisations are increasingly reliant on data and IT infrastructure's availability and are increasingly vulnerable to cyber attacks.
This year's event offers presentations and panel discussions on a wide range of topics including – business transformation, risk & governance, change management, privacy & social media, legal & ethical aspects of cybersecurity. With a confirmed list of speakers including a key note from Mr Robert Kabushenga the Vision Group CEO, Eng. Dr. Fredrick Tusubira from NITA-U, Mrs Agnes Konde MD at NTV, Mr Paul Kyama – MOFPED, Mr. Martin Ssekajja – KCCA.
Participants will get to meet Industry thought leaders from various sectors such as Government, Regulators, Professional Services, Banking, Telecommunications, among others. Learning practical skills and techniques from the leading professionals in the field and valuable CPE hours (up to 15) while gaining new knowledge and insight. Come network with colleagues and vendors to foster a stronger East Africa Information Security community.
The Information Systems Audit and Controls Association (ISACA) is a leading global provider of knowledge, certifications, community, advocacy and education on information systems (IS) assurance and security, enterprise governance and management of IT, and IT-related risk and compliance.
To register please contact Ms Margaret Nambuusi – Administrator ISACA Kampala Chapter on email (administrator@isaca.or.ug) or call +256 (0) 392-893965, +256 (0) 787-467646