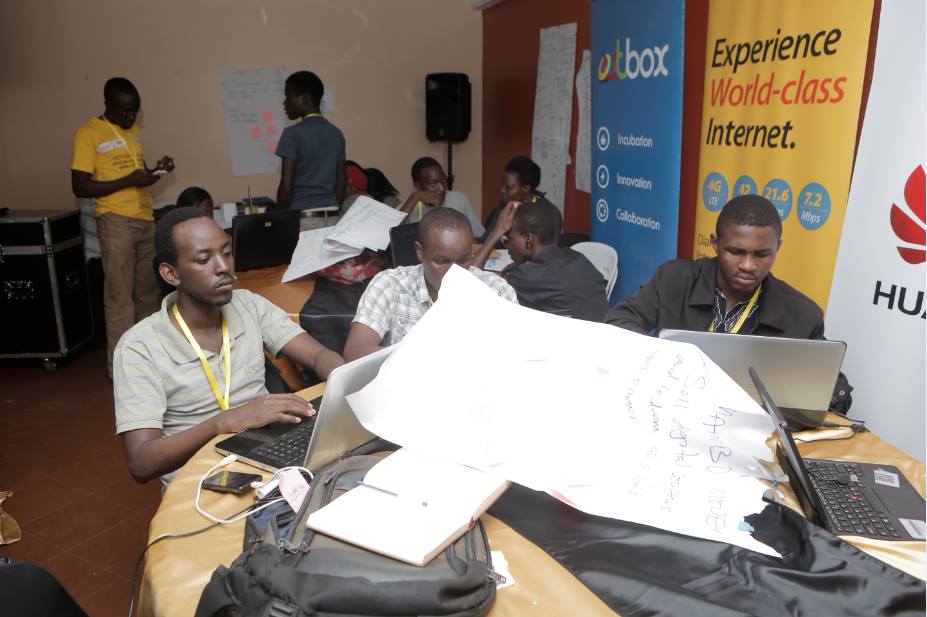 Starting Friday evening, coders, business developers and project managers have been camped at MTN Uganda's head office in Kampala where they've been tasked to create innovative solutions to our society's most painful problems. 
They have developed solutions in the categories of health, finance, business and entertainment. We've seen mobile games, money-lending services and events management solutions.
Here's a list of all the apps that are going to be presented to judges this afternoon.
1. Money Tree (Category: M-Finance)
Team Leader: Owor Innocent
An app that enables low and middle income earners to make more wealth. Enables them to save, invest, and to grow wealth through micro-investments. Relies on mobile money to encourage people to save by enabling them transfer money from their mobile money account to their Money-Tree account, then start spending the money in many micro-investments.
2. Marathon Manager (Category: M-Business)
Team Leader: Brian Ssenoga
App targeting marathon events that handles registration, kit collection, payments and instant publication of results after the marathon event. Lists upcoming marathons with all relevant details about the marathon and asks user to register.
Post-event, you can find out the result by just typing your kit number. Results are entered into the database by Champion Africa.
3. Run 4 Your Life (Category: M-Health)
Team Leader: Adeline Tushabe
Run for your life is a 3D mobile game built to create awareness about HIV, other chronic diseases and general health care. It facilitates delivery of health information by letting users answer some questions to redeem their game-life as the play a mobile racing game.
Failure (while playing) gives you questions while success gives you various tips.
4. Yoza (Category: M-Business)
Team Leader: Nicholas Kamanzi
Yoza is an Android App that provides laundry services to people who needs them. It targets single youth between 18 and 30. They've listed a number of service providers and will use the app to connect them to people who need the app.
The app utilizes "Yoza Credit" which is a coupon system (loyalty program) to encourage people to use the app.
5. RedTile (Category: M-Finance)
Team Leader: Daniel Nanghaka
RedTile is a mobile solution that allows mobile money users to borrow money quickly and instantly at a low, competitive interest rate with flexible payment plans. It also provides a platform for people to invest the money which will be used as float for giving out quick loans.
It is a mobile-based money-lending service. It utilizes one's MTN Mobile Money history to determine their credit-worthiness.
6. MamboPay (Category: M-Finance)
Team Leader: Charles Muhindo
MamboPay is a coupon-based payment solution that enables individuals or organizations to send funds to various beneficiaries in terms of coupons. Coupons are tied to a specific purpose and can only be redeemed at partner service providers for that specific purpose.
It can facilitate payment for health services, for example, by letting a sponsor generate a fixed-value coupon to be redeemed at any of the registered health service providers.
7. Mobile Money Dashboard 
Team Leader: Godfrey Basil Busiku
A  financial reporting tool that helps summarize reports of a day's transactions from various "counters" for a mobile money agent. The app develops customized reports for performance of mobile money "tills" under one agent. The functions as an extension of MTN Mobile Money and serves just the purpose of reporting, saving the agent the time it takes to get reports by queuing up at the service centers.
8. BizMob
Team Leader: Brian Lamtoo
A mobile application for small and medium enterprises that helps them to auction used products and dispose them as well as purchase goods they may be interested in from other vendors.
It is strictly B2B (Business to Business) or Customer to Business (C2B). Participating companies must be profiled on the app so as to help potential partners/customers understand them. This also helps the respective companies establish their footprint in the industry.
9. Mobile Shopper (Category: M-Business)
Team Leader: Nekessa Patience 
Mobile Shopper is a point-of-sale solution that runs on a mobile phone. It's intended to replace the current POS's that are running on desktops since most vendors find the software expensive. So Mobile Shopper is offering a free alternative, although it'll be charging users per receipts issued.
10. Shoutout (Category: M-Health)
Team Leader: Katamba Ronald
Web and Mobile application that helps young people avoid health risks by sensitizing young people about the dangers of HIV, early pregnancies, abortion, e.t.c
It provides users a chance to interact with health counsellors anonymously, and can also help you view the nearest health centers. Additionally, it also provides a game section that it intended to help users "play as they learn".
11. 4Lio (Category: M-Business)
Team Leader: Harrold Asiimwe
It's an android mobile app that curates job openings from recruiters while matching the openings with potentials candidates. It is developed by a young software who has been unemployed for about 4 months and he wanted to create a platform to highlight job openings more prominently for the benefit of job seekers.
12. Nonya (Category: M-Business)
Team Leader: Sharon Rwakatungu
It's an android mobile app and website that provides listings of service providers through crowd sourcing experiences from the community through recommendations from friends and reviews by the community.
13. myHealth (M-Health)
Team Leader: Edmond Atto
This app is intended to fill an information gap. It's built to connect users to health care facilities. My health enables ease of access to healthcare service providers by making sure that you can access health professionals and also be availed healthcare services at your fingertips.
Users specify the service they're interested in, and the app will show them the nearest health center from where they can obtain the services. It also helps them schedule appointments depending on the availability of doctors/specialists.
14. Dawa (M-Health)
It's an app that provides access to patient's medical information on the go while allowing a patient to dial a health professional at any time and from anywhere.
15. Paperzine (Category: M-Entertainment)
Paperzine is an interactive newsfeed. The developers intend to offer an interactive way of reading content. In addition to just reading content, they're offering an option to listen to audio and watch videos through this mobile app.
The app offers features like Social Media sharing, voting and article ratings, in addition to the option to have further related content – videos and audios – about the same article being attached to the said article.
The target is to partner with news publishers and use the app to add interactivity to the already published content.
16. MaRadio
Team Leader: John Paddy Kiyini
A mobile application that allows people to share music while still listening to it. It's like Samsung S4's "Group Play" for all Android devices. Users have the option to either sync the songs or play remotely from the host's device, letting different users "listen to the same song at the same time."
17. Commonsense (Category: M-Entertainment)
Information about this app is scanty, but they are working on some innovation in the space of a mobile gaming.(Excuse our void of commonsense at this point).
18. Ug-Ent (Category: M-Entertainment)
It's an android application that connects artists to their loyal fans and also a platform for cheaply buying local music at knock out prices. It lists various artist with an option to stream their entire musi collection, both audio and video.
The app also lets you connect with the artist through their social media accounts and see their upcoming events.