WhatsApp for Android has hit one billion downloads on Android alone! which makes it the second non-Google app to achieve this milestone.
Google Play publishes installation ranges for each app, and in WhatsApp's case this now shows as being between 1 billion and 5 billion downloads.
In January, WhatsApp revealed it had 700 million monthly active users (MAU) across iOS and Android, 70 percent of whom are active each and every day.
Two months on, that MAU figure will no doubt have increased, but it's hard to say exactly how many of the 1 billion-plus Android installs are active users.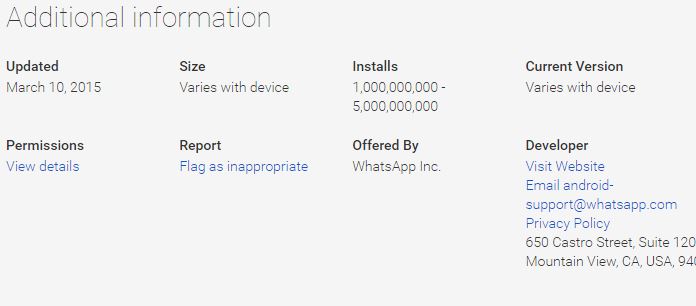 Google calculates app downloads on a per-account basis rather than per-device, it doesn't consider those who have uninstalled the app. So this doesn't mean there are 1 billion people or devices out there with WhatsApp currently installed.
Facebook became the first non-Google service to meet that magic milestone last year. Now with WhatsApp, Facebook has two applications that have at least one billion Android installations under its belt.
Via VB