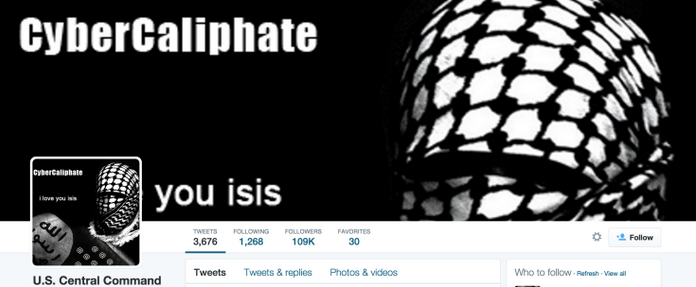 As Obama delivered remarks at the FTC about cybersecurity, the United States Central Command's Twitter and YouTube accounts were taken over by hackers going by the moniker of 'CyberCaliphate', claiming to be affiliated with ISIS.
"ISIS is already here, we are in your PCs, in each military base," read one of the tweets. A US Official has confirmed the hack, according to NBC News.
Meanwhile, the Central Command's YouTube page was set to display propaganda videos in support of ISIS.
The Twitter messages implied ISIS had infiltrated deeper into the Central Command's networks, and included images depicting what appear to be spreadsheets listing names and addresses of US Army members.
An anonymous Pastebin post reads:
Pentagon networks hacked

AMERICAN SOLDIERS,
WE ARE COMING, WATCH YOUR BACK. ISIS. #CyberCaliphate

In the name of Allah, the Most Gracious, the Most Merciful, the CyberCaliphate under the auspices of ISIS continues its CyberJihad. While the US and its satellites kill our brothers in Syria, Iraq and Afghanistan we broke into your networks and personal devices and know everything about you.

You'll see no mercy infidels. ISIS is already here, we are in your PCs, in each military base. With Allah's permission we are in CENTCOM now.

We won't stop! We know everything about you, your wives and children.

U.S. soldiers! We're watching you!
It thereafter provides a link to a .zip file labeled 'US Army Files', which includes what appears to be lists of names, addresses and contact information for army officers, as well as budget documents from last year.
Although ISIS purpot the attack to be a large breach, none of the information appears to be terribly sensitive. A Pentagon official told the Wall Street Journalnone of the released data was highly classified. Some of it is readily available on public websites.
Central Command says it is "taking appropriate measures to address the matter."
UPDATE: CENTCOM's Twitter and YouTube accounts have now both been suspended.