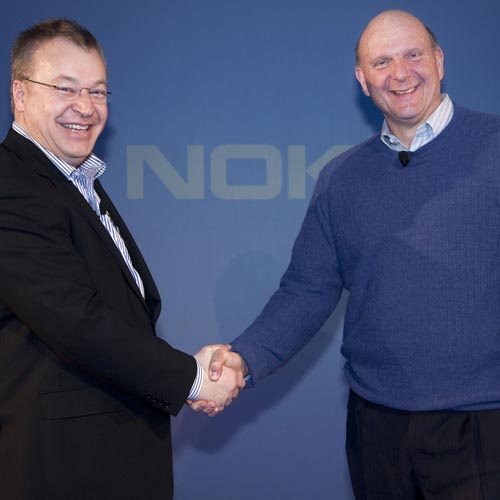 Microsoft just announced that it's acquiring Nokia's devices and services business for more than $7 billion in cash. The Company will pay $5 billion for Nokia's cellphone division and $2.18 billion to license Nokia's patent portfolio.
Microsoft is to also get a hold of Nokia's extensive mapping technology, including the mapping company Navteq.
The deal is expected to close in the first quarter of 2014 and is subject to approval by shareholders and regulators.
"Nokia will now write its next chapter, focused on enabling mobility through its leadership in networking, mapping & location, and advanced technologies," Microsoft CEO Steve Ballmer and Nokia CEO Stephen Elop wrote in a joint blog post.
"For Microsoft as well, today is a bold step into the future, a huge leap forward on our journey of creating a family of devices and services that delight people and empower businesses of all sizes"
Nokia CEO, StephenElop will be stepping away from his CEO role to become the executive VP of devices and services at Microsoft. He was a  former Microsoft exec before he joined Nokia.
Microsoft is also buying Nokia's legacy. The acquisition also gives Microsoft instant access to millions of people in emerging markets running feature phones, which could pay off for Windows Phone when those users are ready to upgrade to something smarter.
In their blog post, Ballmer and Elop say that the acquisition means Microsoft can now "realize the full potential of the Windows ecosystem." Read another way, it sounds like they're admitting Microsoft has squandered some of that potential so far.
Source: Venture Beat