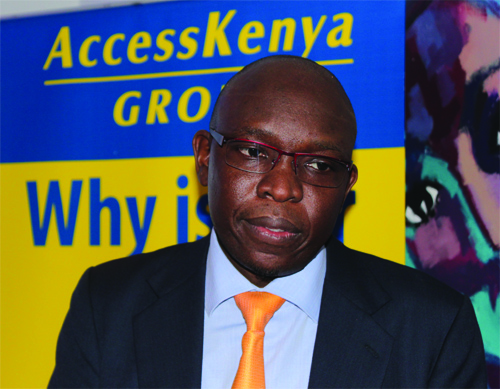 AccessKenya's Internet Division MD, Mr. Kris Senanu said that the company has invested overSh100Million this year alone towards this expansion that will cover a 45KM stretch in Nairobiand an additional 20Kms in Mombasa.
The expansion will see the company's total fibre networkcoverage extend to over 350KMs in the two towns.
"Our reliability of service has contributed immensely towards the growth on our network. The pasttwo quarters have seen a surge in the demand for fibre mostly from our corporate clients," said Mr.Senanu.
Group Projects Manager Mr. Ndung'u Njoroge noted that most of the civil works in the target areasfor expansion are ongoing and on schedule for completion as the projections for the year.
"We are already working on the longer expansion routes in Nairobi with only one area pendingapproval due to consideration of the road expansion. We want to carefully lay the cables to avoidinterruptions that may be occasioned by road construction in future," said Mr. Njoroge.
This year, the Nairobi Securities Exchange (NSE) listed company is targeting to connect 100buildings on its network in Nairobi and Mombasa and already 50 have been hooked. There's aplanned expansion in Mombasa to cover Nyali in the North Coast targeting all major hotels. "Weexpect to start the work this month and hopefully complete by November this year." Mr. Njorogesaid.
Some of the areas already covered in Nairobi this year include Eastleigh and Industrial Area(covering Likoni and Nanyuki, Kitui and Kampala Roads). Civil works along the newly completedThika Super highway are ongoing and the company is targeting closure by September. "We are alsoworking towards completing coverage Athi River and in Mlolongo in the next two months," saidMr. Njoroge.
AccessKenya is currently the market leader in corporate internet connectivity with 42% marketshare and has in the recent years diversified its product portfolio to include Data Backup, DisasterRecovery and a range of Unified Communication Solutions in a bid partake the pie of the highlycompetitive data business.
According to the company, the increasing fibre uptake has played a majorrole the continued expansion and product diversification. Only a couple of weeks ago, the companylaunched a Fibre to the Premise (FTTP) solution targeting property developers.
"We want to involve property developers, architects and project so as to ensure fibre connectivity isprovisioned for in the building plans and architectural designs,' said Mr. Senanu. "This will not onlymake connectivity easier and properly done, but also add value to properties and facilitate efficiencyin resource management," he added.
These developments come even as recent Statistics from the Communication Commission ofKenya (CCK) indicate that fibre subscriptions grew by 3.9% in the first quarsourceter of 2012 to reach 38,966.This was, compared to the same period last year, a 118.3% growth. The company maintains thatit focus on its core business of corporate internet connectivity and will not venture into the massmarket.