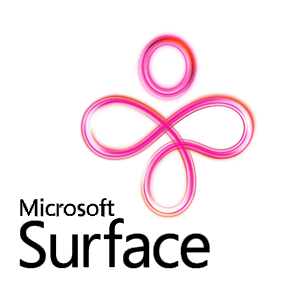 1. Variation
Microsoft's effort will be available in two different versions: one that runs on Windows RT, while the flagship version will make use of Windows 8 Pro. The two versions will also use different chipsets, namely Nvidia ARM and Intel CPUs, while the display is a 10.6″, 16:9 widescreen HD Display (Surface), or Full HD Display (Surface Pro). Apple's iPad is essentially available in one version, which runs on a 1 GHz Apple A5X processor and makes use of iOS.
2. Storage space
Within the different versions of Surface, users will be able to choose a varying degree of storage space. While the iPad is available in 16 GB, 32 GB, or 64 GB variants, Surface will boost the capacity to 32 or 64 GB and microSD slot for the lower-end Surface, while the top-of-the-range model will be available in 64 or 128 GB and a microSDXC slot.
3. Size
Most tablets released to the market today try to be thinner and smaller than the iPad, but Microsoft has taking the issue to the competition. The display of the Surface Pro is almost a full inch bigger than the iPad, measuring in at 10.6 inches, while the iPad sits at 9.7. Microsoft also said that the screen has been optimized to have the same dimensions as a movie screen, so users will no longer have wasted screen space filled with black bars. The Windows RT version is also slightly thinner than the iPad, but the Pro version is a good 5mm thicker.
4. Computing power
Surface Pro will make use of a Quad-core Intel Core i5 processor, and the RT version will be powered by Nvidia Tegra ARM. Apple's tablet operates on a 1 GHz Apple A5X processor, which has not been designed for heavy working conditions. "Tablets have always been a hybrid hovering somewhere between a smartphone and a laptop, best used for game playing, Web surfing and media consumption. Microsoft wants the Surface to be something you can actually do some work on," CNN wrote.
5. Connectivity
One of the major issues that has been plaguing Apple's iPad is that users have no way to transfer files from one source to another without going through the cloud or other means, as it has no USB ports. Microsoft has every intention to include a USB port (2.0 on the RT and a faster 3.0 on the Windows Pro) on Surface, which will make things a lot easier for users. Having USB ports will allow users to add removable storage, attach a printer or a 3G device. The Pro will also have a Mini Display Port, while the RT will sport a micro HDMI. Both versions will have MIMO Wi-Fi (802.11 a/b/g/n) Wi-Fi capabilities. The iPad has Wi-Fi, Bluetooth 4.0 and an Apple 30-pin dock connector.
6. Keyboard
If users of the iPad do not buy a third-party keyboard to type messages or emails, they are pretty much stuck with the default glass-tapping in order to press the virtual keys, as there is no Apple-developed external keyboard.  Microsoft will release two keyboard covers for Surface; a Touch Cover and a Type Cover. While both will provide the Surface with protection from scratches and dings when closed, once opened the inside of the cover will transform into a tablet keyboard. "The Touch Cover is 3 mm in thickness and has a touch-sensitive keyboard and multi-touch trackpad. The Type Cover is thicker and includes a more traditional keyboard. Both also include a multitouch touchpad," wrote USA Today.
7. Xbox SmartGlass
While it is not entirely fair towards the iPad to list SmartGlass, users of Surface will be at a distinct advantage. SmartGlass will be the new technology Microsoft developed to be used in conjunction with it's Xbox console and aims to make players more engaged in their gaming. While SmartGlass will probably be released for the iPad as well, it will be a reasonable assumption that Microsoft will add a bit of extra functionality to their device in order to squeeze all the goodness out of Surface and SmartGlass.
Charlie Fripp