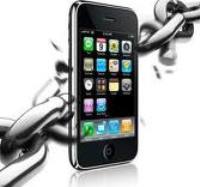 Tech publications such as 9to5Mac have found Chronic to be a "credible source of Apple rumors in the past," meaning that his tweet has officially created a buzz in the tech press about unlocked iPhones.
RELATED: iPhone 5 rumors for the week ending June 10
Why are unlocked iPhones such a big deal? In theory, owning an unlocked iPhone would allow users to switch seamlessly between wireless carriers without purchasing a new device and without signing a two-year exclusivity agreement. The words "in theory" are key, however, as America's four major wireless carriers are currently evenly divided when it comes to the wireless technology they use. In other words, if you have an unlocked CDMA-based iPhone you could run it on Verizon and Sprint, but not on AT&T or T-Mobile, both of which would require a GSM-based iPhone.
And as PC World's Daniel Ionescu notes, this places some pretty big limitations on what American users would be able to do with their unlocked iPhones.
"An unlocked CDMA iPhone makes little sense, because Verizon does not use SIM cards for easy identity swapping," he writes. "The AT&T iPhone would also be of use only on AT&T, because the internals of the device don't support T-Mobile's 3G frequencies."
Additionally, buying an unlocked iPhone will cost you a lot more than an iPhone that you purchase with a two-year service contract. That's because carriers heavily subsidize smartphones on their networks to lock customers into service agreements, and without such an agreement the device will likely cost in the $600 to $800 range depending on the model.
So what's the real value of an unlocked iPhone in America? Well, the best feature of an unlocked GSM-based iPhone is that you'd be able to travel abroad without paying AT&T's roaming fees. Instead, you'll be able to insert a local prepaid SIM card into your iPhone and enjoy pay-as-you-go voice and data services from another GSM-based carrier. But for people who don't travel abroad extensively, paying a premium for an unlocked iPhone may be less attractive.
Is an unlocked iPhone worth $600?online survey
Even so, as CNET's Eric Mack notes, paying a premium for an unlocked iPhone could still prove a blessing for any travelers who are weary of getting huge bills filled with roaming fees after coming home from overseas.
"An unlocked iPhone wouldn't be great news for AT&T, which loves to promote itself as the best option for international travelers, but many AT&T customers have had a rude awakening when the bill arrives following a trip abroad," he says. "So here's hoping mystery-man @chronicwire knows what he's talking about."
www.pcworld.com